Consistent decline of biomass forces Falklands early closure of Loligo season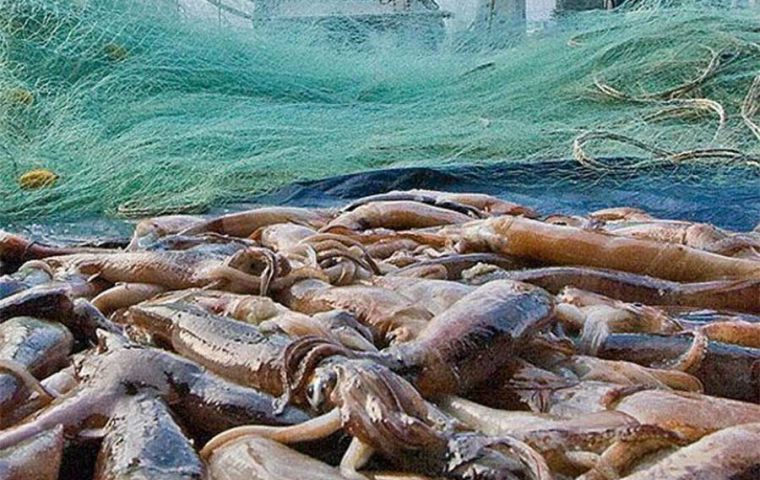 The Falkland Islands Fisheries Department (FIFD) conducted a pre-season survey for the winter Loligo 'X' licence season, working in close partnership with local companies. The survey results showed the lowest winter pre-season survey biomass estimates since 2008, a total of 19,859 tons.
On 30th July, 16 vessels commenced the fishing season, with catches regularly monitored by both local companies and the scientific team at FIFD.
The catches from the start of the season showed a consistent decline in the estimated available biomass. On 22nd August FIFD issued a 7 day notice to all vessels that the biomass was forecast to fall below the conservation threshold of 10,000 tons and that as a result, the season would be closed early on the 29th August. Alongside the notice to vessels, a meeting with all local companies was held and daily updates to all local companies commenced. The biomass estimates continued to fall, resulting in the closure of the season on 29th August to maintain the conservation threshold within the Loligo fishery, thereby ensuring the future sustainability of the fishery.
FIFD, working in partnership with the fishing industry, are undertaking a 14 day scientific survey following the end of the season to monitor stock levels and collect further data about the fishery. Similar situations were last seen in 2015 and 2019 and a collaborative approach between FIFD and the fishing industry will help build on the understanding of what factors influence both the biomass levels and distribution of squid within the fishery.
Loligo Operators noted the very early closure of the 2023 2nd Loligo fishing season (29th August), with slightly less than half the season completed was declared earlier than the two previous closures on the 8th and 9th of September in 2015 & 2019 respectively, and that the decision was taken after consultation with industry due to stock management reasons. It was accepted that catches were down 36% when compared to the same period last year.
Despite industry agreeing with the reasons for closure, it was noted that this will have a significant impact on the fishing sector over the coming months and possibly years. A loss of 25% of fishing effort in any given calendar year or 50% of the more important second season in this case will be a substantial blow, but that it comes in the most important fishery is even more significant.
FIFCA Executive Secretary James Bates said that this combined with other factors such as continued high bunker prices, levels of global supply-chain inflation not experienced for decades and high borrowing interest rates were adding to an already challenging environment, particularly at a time when around 20% of the Loligo fleet are currently or are about to be renewed at substantial capital cost (£100m+).
He said that when these factors are accumulated, it was highly likely that 2023 will see a downturn in profitability and tax payments from the sector and that we were currently working with our membership to better understand this. Once we have done that, we would be seeking further engagement with FIG on behalf of the Association to discuss what can be agreed in terms of license fee refunds for this lost fishing period