Syphilis cases mounting in Argentine province of Chubut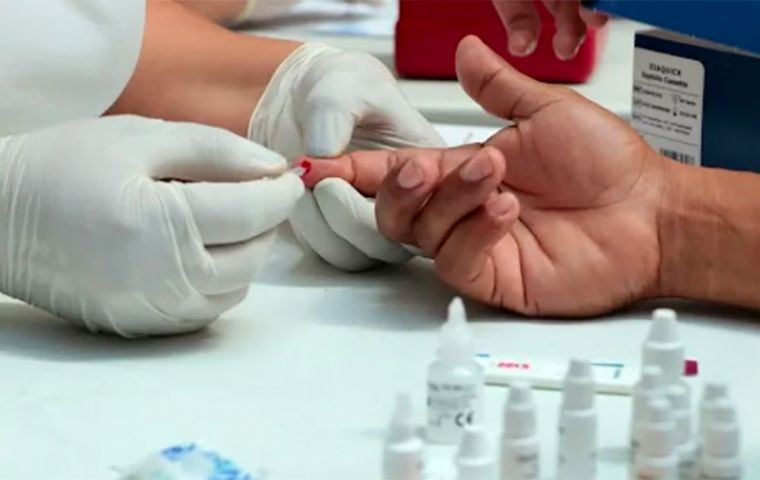 Health authorities in the Argentine province of Chubut have expressed their concern about an increase in the number of cases of syphilis. The provincial Health Ministry is working on different strategies and policies aimed at promoting the prevention of this disease and other Sexually Transmitted Infections (STIs), according to local media in Rawson.
"In recent years we have observed a significant increase in cases of syphilis in our province, having even tripled the number of people diagnosed since 2021 to date," Doctor Sebastián Restuccia, a provincial expert on HIV, STI, and Viral Hepatitis said.
"We currently have a rate of 90 cases per 100,000 inhabitants, the age from 20 to 34 being the age group with the highest incidence," he added.
"Syphilis is one of the main sexually transmitted infections that exist today and, contrary to what is usually believed, it has not been eradicated, but it is an infection still in force, with a sustained increase in the number of cases worldwide," he also pointed out.
"Syphilis is produced by a bacterium called 'Treponema pallidum' that is fundamentally transmitted through sexual intercourse, through contact with fluids," Restuccia further explained.
"That is why it is so important to use barrier methods, such as penile and vaginal condoms or latex fields," he went on.
He also mentioned that "this infection can also be transmitted through pregnancy, causing congenital syphilis in the baby, which is why it is essential that pregnant women maintain adequate health care controls during pregnancy, taking laboratory tests in each of the three trimesters, and including their sexual partners in these tests."
"Initially, syphilis usually manifests itself with a lesion called 'chancre,' which can appear on the penis, vulva, mouth or anus". Later, "this lesion usually disappears with time, even without treatment, but the infection remains latent even if there are no visible lesions, so the disease continues to progress and the risk of transmission is maintained," he also explained.
"Syphilis has a cure and its treatment is very simple," Restuccia elaborated. "It is fundamental that we can prevent the transmission of this infection, as well as other sexually transmitted infections, through health controls, access to diagnosis, and the use of barrier methods."