Violence against reporters on the rise in Ecuador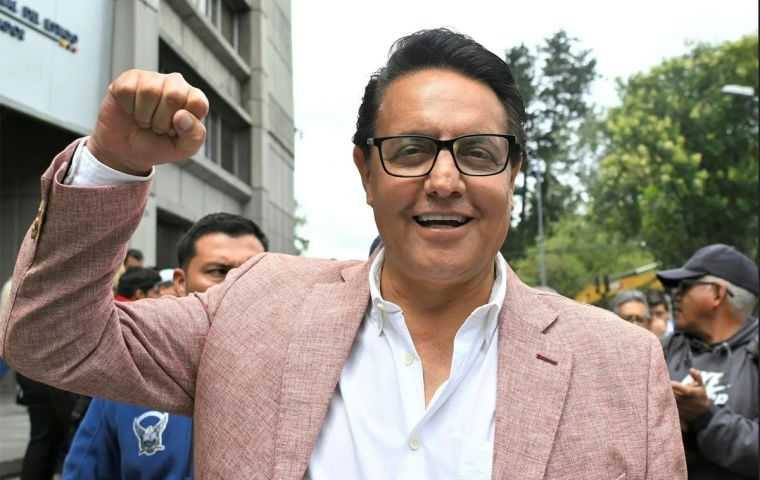 Death threats against the media doubled in Ecuador from last year's figures, three press associations denounced in Quito Thursday during a press conference. At least 15 journalists have received life-threatening messages amid growing violence nationwide.
"That is a 100% increase with respect to the death threats registered in 2021 and 2022 when there were between seven and eight" such intimidations, Fundación Periodistas Sin Cadenas (Journalists Without Chains Foundation) President Susana Morán said after news teams covered the Aug. 20 elections wearing bulletproof vests and helmets following the assassination of presidential candidate Fernando Villavicencio, known for his journalistic investigations.
César Ricaurte, from the NGO Fundamedios, assured that "the pattern of violence" has mutated. Threats used to stem from government officials but now most of them come from "organized crime and common delinquency."
The other entity hosting the Round Table for the Protection of Journalists in Ecuador conference was Nos Faltan Tres (Three of Us Are Missing). The initiative seeks to verify threats, analyze risks, and protect journalists whose lives are in imminent danger.
Between January and August this year, Journalists Without Chains registered 216 aggressions against journalists. Of these, 15 were death threats.
For years, Villavicencio had uncovered major corruption scandals. Ten days before the elections, he was shot and killed. His masterful investigation led to the conviction of former Socialist President Rafael Correa (2007-2017) to eight years in prison for corruption. Villavicencio had said he had been threatened by "Los Choneros," a gang linked to dissidents of Colombia's FARC guerrillas and Mexico's Sinaloa cartel.
Between 2018 and 2022, Ecuador's homicide rate went up from 6 to 26 per 100,00 inhabitants and is projected to reach around 40 homicides per 100,000 inhabitants by the end of 2023.
"Each time the aggressions against journalists are more violent," Morán added. Three journalists were murdered in 2022, and five had to leave the country this year due to threats against their lives," he said.
In March of this year, five envelopes containing USB flash drives loaded with explosives were sent to journalists from different media outlets. One of them was slightly injured after the detonation.
Last year RTS channel was attacked with gunshots. In 2020, an explosive device went off at the Teleamazonas TV station.
"There is a pattern of impunity (...) When there are cases of aggressions against freedom of expression, of attacks, of murders of journalists, the professional motive is never investigated, and this is very serious because it also does not give us official statistics on violence against journalists," Ricaurte pointed out.
Press freedom organizations have also identified "silenced zones" where criminality leads journalists to censor themselves and request additional protection. "Silencing occurs especially in the provinces of the Coast that are very affected by organized crime because they are corridors of these illicit goods. The northern border has an urgent and dramatic situation," Morán told AFP.