China: Maduro meets with Communist Party Secretary-General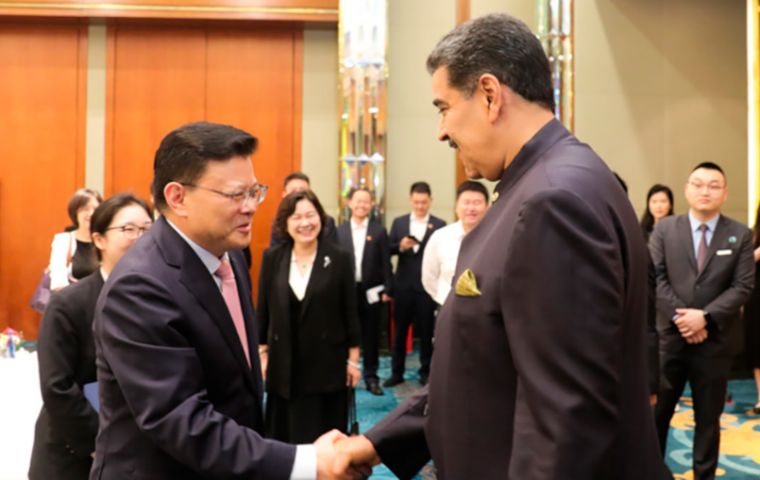 Venezuelan President Nicolás Maduro and Chinese Communist Party (CCP) Secretary-General Huang Kunming met Saturday at a hotel in the city of Shenzhen, in the province of Canton, "to exchange experiences in the political area, as well as to strengthen the bonds of integration and mutual respect," it was informed from Caracas by the Presidency's press office.
Maduro highlighted the importance of the Special Economic Zones (SEZ) as a path to economic diversification, being a pillar of development in the 21st century. "We are beginning to walk the path of the construction of special economic zones in Venezuela, as a way to diversify the economy and to expand Venezuela's productive forces, linked to the high technology of this new era," he stressed.
"It is something fundamental -he added- if we talk about development in the 21st century. That is why this meeting is so important, from which I hope plans and initiatives will emerge that will deeply unite the two countries," he added.
President Maduro arrived in China Friday at the invitation of his colleague Xi Jinping, after last visiting the Asian country in 2018. The South American leader's current trip to China will span through Sept. 14. Maduro's visit to the Asian country comes after a trip to Beijing by Venezuelan Vice President Delcy Rodriguez, who met on Thursday with Chinese Foreign Minister Wang Yi to review bilateral issues and boost economic and trade agreements between the two nations.
As part of the new round of talks, a memorandum was signed among the China Center for Satellite Oceanography, the Bolivarian Agency for Space Activities, and the Venezuelan Institute for Scientific Research (IVIC) for the specialized study of the environment.
"We appreciate the reception of the Minister of Foreign Affairs of the People's Republic of China and Director of the Office of the Foreign Affairs Commission of the Central Committee of the Communist Party of China, Wang Yi, to whom we express the greetings of President @NicolasMaduro," said Rodríguez, who also explored options for economic cooperation with the Shanghai-based BRICS New Development Bank President Dilma Rousseff.