Paraná Waterway conflict: Paraguayan barge released after paying toll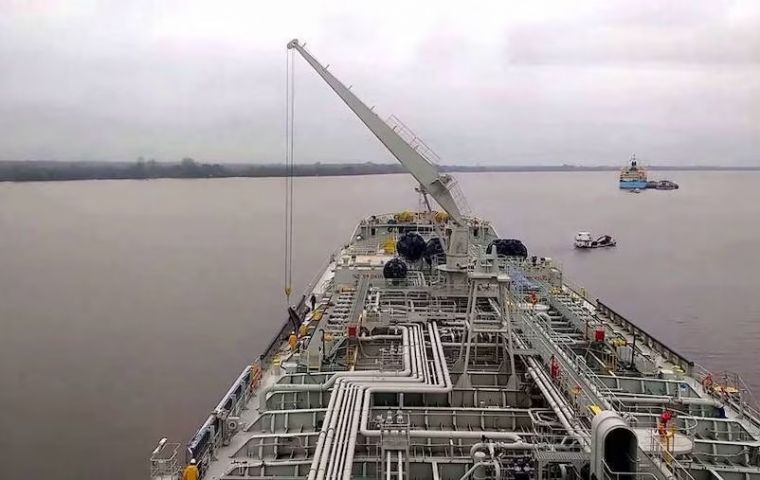 A Paraguayan barge with fuel seized by Argentine authorities for failure to pay the toll on the Paraguay-Paraná River Waterway has been released after posting nearly US$ 30,000, it was reported.
Mercurio Group SA, owners of the vessel, announced that the barge was released at 3.30 pm Monday, which had been detained in the Santa Fe section of the Paraguay-Paraná Waterway, was released after paying a total of US$ 28,477 (US$ 27,000 for tolls and US$ 1,477 for costs and interests), company President Luis Ortega told Asunción's Última Hora.
The incident began last Wednesday, when the barge, loaded with 2.7 million liters of fuel, was detained by the Argentine Coast Guard (Prefectura Naval Argentina - PNA) to demand payment of the toll unilaterally imposed by the Argentine government. The vessel was part of a convoy of 10 barges carrying a total of 30 million liters of fuel headed for Zárate, in the province of Buenos Aires.
Ortega then insisted on not paying the toll until the situation was solved in a political-diplomatic environment. The Paraguayan Foreign Ministry summoned Argentine Ambassador Domingo Peppo, citing a violation of the Treaty of Santa Cruz de la Sierra and the right of free navigability.
Paraguayan President Santiago Peña announced measures against Argentina, including a lawsuit before the Mercosur Tribunal for violations of the Treaty of Asunción. Also contemplated is the withdrawal of more energy from Yacyretá, due to Argentina's US$ 150 million debt.
In response, the governments of Brazil, Uruguay, Bolivia, and Paraguay issued a joint communiqué condemning Argentina's unilateral decision, considering it to be established outside the international regulatory provisions in force.
Also on Monday, Paraguayan Ministers Rubén Ramírez (Foreign Affairs) and Claudia Centurión (Public Works) announced after a meeting with Argentine authorities that the two countries would establish a working group to find solutions to the conflicts over the Paraguay-Parana Waterway and the Yacyretá Binational Entity (EBY).
"Considering that we are in a process of discussions and the need for consultations with the respective authorities, we have agreed to keep the details in reserve until we conclude the negotiations," Ramírez said.
"This initial meeting was positive and in the spirit of reaching agreements between the two countries," Centurión admitted.