Venezuelan opposition leader Machado asks Brazil for help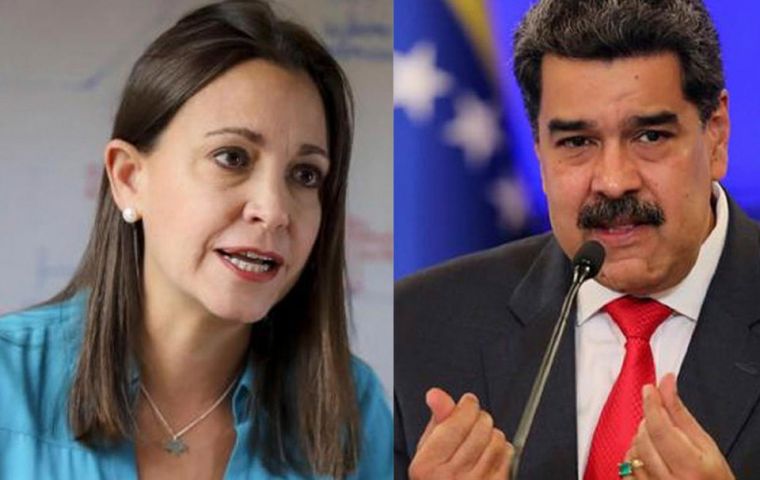 Venezuelan opposition leader María Corina Machado Tuesday asked the Brazilian Senate's Public Security Committee through a video appearance to help the Caribbean country hold fair primary elections. Machado also denounced the attacks by Nicolás Maduro's regime and insisted she intended to run despite her disenfranchisement.
"I want to ask you to accompany this process, to make us feel that we are not alone," Machado said during a videoconference arranged by Senator Sergio Moro, a staunch opponent of President Luiz Inácio Lula da Silva, whom he had jailed for 580 days when he was a judge.
"I aspire that the Brazilian government, through its Foreign Ministry, enforces a mutual commitment to respect democratic institutions," Machado pointed out. "I believe I am going to win" the primaries, she added.
"I will participate in the primaries, I believe I will win them, and, with that legitimacy, we will be able to appeal to all Latin American governments to make (Nicolás) Maduro's regime understand that, for its own good, it has to allow competitive elections" in 2024, Machado insisted.
"We have a huge opportunity to advance along a democratic transition route that allows us to re-establish inclusive institutions, sovereignty, democracy, freedom, and the return of millions of Venezuelans," the
Vente Venezuela leader went on.
Moro also regretted that Lula referred to Maduro as a friend.
Machado wondered how it was possible that a nation that in less than two decades received billions of dollars for oil, "saw its economy fall so drastically" with more than US$ 23 billion "missing" from PDVSA. "The violation of human rights grew drastically. "Today there are almost 8 million Venezuelans who left Venezuela. It is almost 25% of the population," she assured.
"They are pensions of 5 dollars per month. A teacher lives on 1 dollar a day. There is malnutrition, [plus] lack of water and energy. A reality of Venezuela that they try to hide with propaganda," she also noted.
Machado also mentioned international reports speaking of thousands of extrajudicial executions in addition to some 14,000 detainees over the last 14 years and underlined that Venezuela was the fifth country that pollutes the Amazon the most due to the burning of oil.
The conservative politician also explained that 61% of the Venezuelan territory was "in the hands of irregular groups" ranging from Colombian guerrillas to Mexican drug cartels and illegal mineral extraction groups to the organized crime of the First Capital Command of Brazil.
Brazilian Senator and former Vice President Hamilton Mourão, who as a general was military attaché in Caracas between 2002 and 2004, said that had the Armed Forces not supported the Chavist regime, this situation would not have lasted.
Machado invited the senators to visit Venezuela "to see with their own eyes the reality of the crisis as well as the dignified struggle of the workers persecuted by the regime whose crime is to denounce the starvation wages."
"I have 10 years with a ban on leaving the country, 7 years in which I cannot buy a plane ticket within the country. I have to travel around Venezuela with my car and I am persecuted by the police," Machado also said.
"Maduro knows that, in the presidential elections of 2024, I will defeat him, and that is why he is afraid," she stressed.