Milei's interview with Tucker Carlson reaches record audiences
Saturday, September 16th 2023 - 10:51 UTC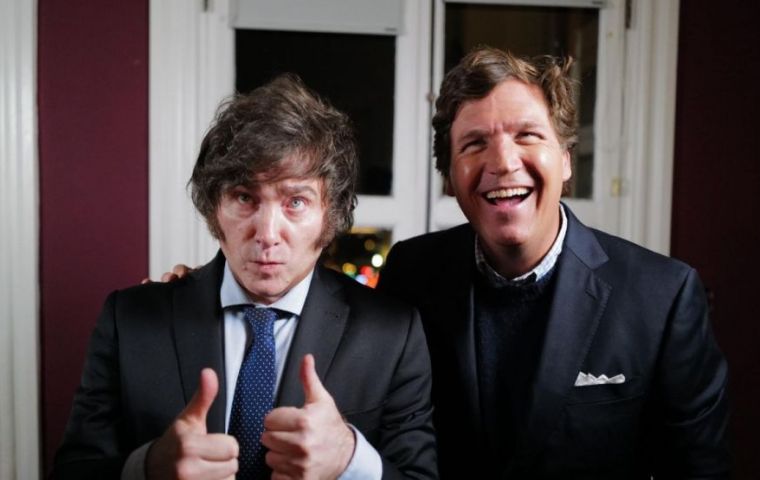 With over 300 million screenings in 24 hours, Argentine Libertarian Congressman and presidential candidate Javier Milei's interview with controversial US journalist Tucker Carlson has become the most-viewed video on X, Elon Musk's social platform formerly known as Twitter, it was reported Friday.
During the conversation, Milei spoke on several topics, including the Argentina-born Pope Francis, inflation, and Donald Trump.
"The next president of Argentina may be Javier Milei Who is he? We traveled to Buenos Aires to talk to him and find out," Carlson wrote on his X account. The previous video that had the most views on X was Carlson's interview with former US President Trump: 256 million.
"Interesting," Musk replied. "Government overspending, which is the root cause of inflation, has ruined countless countries," the business mogul had also written about Argentine President Alberto Fernández and his administration.
Milei stuck to his usual rhetoric and pledged not to do "business with any communist" including China, Russia, and Brazil, and stressed that the leader of the Catholic Church was akin "with murderous communists." The Pope "plays politics" and "has shown affinity with dictators such as (Fidel) Castro and (Nicolás) Maduro."
"He considers social justice to be a central element of his mission and that is very complicated because social justice is stealing the fruit of one person's work and giving it to another," Milei underlined.
Regarding Argentina's entry to BRICS, Milei explained that if he is president he will not do business "with China, I will not do business with any communist. I am a defender of freedom, peace, and democracy. Communists do not enter there. The Chinese don't go in there. Putin doesn't go there. Lula doesn't go there."
"We want to be the moral beacon of the continent. We want to be defenders of freedom, democracy, diversity. Of peace," he added.
He also insisted that to think that "wherever there is a need, a right is born" was "a problem."
Regarding the legal interruption of pregnancy in Argentina, Milei underscored that "as a Libertarian, I am philosophically in favor of respecting the right to life. Life begins at the moment of fertilization. Abortion is murder aggravated by the [blood] link and the differential of forces."