Grim future ahead for CFK
Tuesday, September 19th 2023 - 08:19 UTC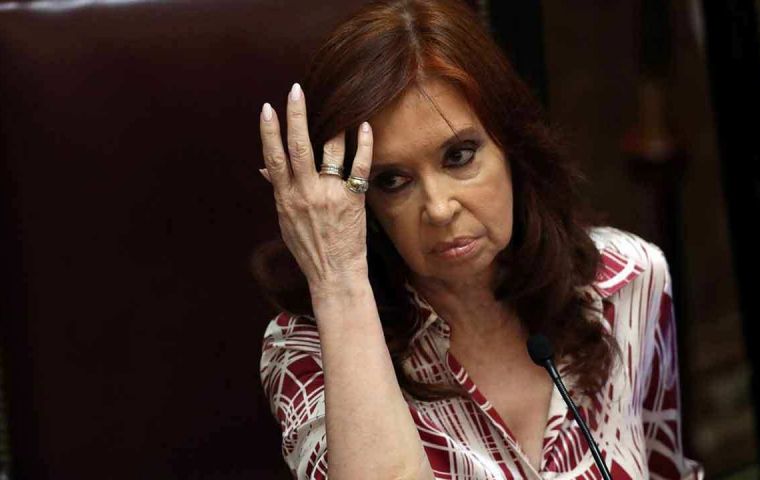 Chaco Governor Jorge Milton Capitanich's failure in his reelection bid has triggered a series of setbacks for Argentine Vice President Cristina Fernández de Kirchner, whose aura is beginning to wane, marking the end of Kirchnerism as the main line within Peronism.
Her former Cabinet Chief admitted defeat to Leandro Zdero of Juntos por el Cambio (JxC) who already pictured Patricia Bullrich reaching Casa Rosada based on these results.
And on Monday, the Federal Criminal Court of Appeals revoked the CFK's acquittal in the Hotesur-Los Sauces corruption case, which also involves her son Deputy Máximo Kirchner, and other defendants. The Upper Court also revoked the dismissal of all charges against CFK in the case regarding a Memorandum of Understanding with Iran signed as a part of the investigations into the 1994 bombing of the AMIA Jewish welfare organization in Buenos Aires.
An oral court had dismissed CFK Kirchner and the other defendants in those two cases. But Jewish organizations such as DAIA and the relatives of the victims of the AMIA bombing filed an appeal.
In January 2015, then Prosecutor Alberto Nisman argued that the signing of the memorandum between Argentina and Iran sought to cover up for those accused of the AMIA bombing because it caused the Interpol red alerts for their arrest to be dropped. The Federal Oral Court 8 in October 2021 acquitted all the defendants for the non-existence of a crime. "The Memorandum, regardless of whether it is considered a political success or a political mistake, did not constitute a crime," said judges Gabriela López Iñiguez, José Michilini, and Daniel Obligado in that ruling.
The Hotesur case is for alleged illicit association and money laundering in the rental of properties and hotels belonging to the Kirchner family. CFK is believed to have received money from companies owned by businessmen Lázaro Báez and Cristóbal López in return for deals they allegedly made under the umbrella of Kirchnerism. CFK's daughter Florencia Kirchner was acquitted because "she was twelve years old" at the time of the irregularities under probe.
The upper court's decisions are subject to appeal before the Supreme Court.
Vice President Fernández de Kirchner is not running for any office in this year's elections, which means she would have no immunity, parliamentary or otherwise, after Dec. 10.