Argentine Army officers remanded for "welcome rite" murder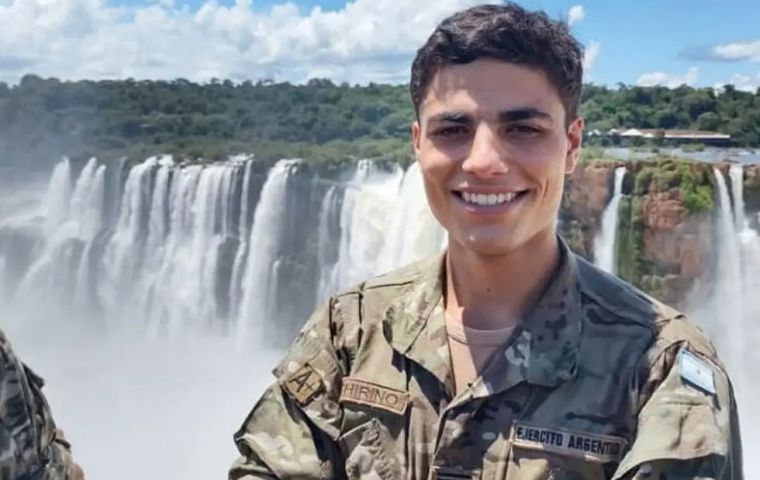 Argentine Judiciary authorities Thursday ordered the arrest of seven Army officers for their alleged involvement in the death of Second Lieutenant Matías Chirino after an "initiation rite" at the Artillery Group Nº 3 barracks in Paso de los Libres, in the province of Corrientes in June last year.
The measure was taken by the Federal Court of Appeals of Corrientes; the judges decided to classify the incident as "simple homicide" as per the Argentine Penal Code.
The magistrates found Captains Claudio Andrés Luna (36), Rubén Darío Ruiz (36), and Hugo Reclus Martínez Tarraga (35); lieutenants Darío Emmanuel Martínez (32) and Exequiel Emmanuel Aguilar (32); and second lieutenants Facundo Luis Acosta (27) and Gerardo Sebastián Bautista (32) as co-perpetrators. Second Lieutenant Claudia Daniela Cayata (35) and Lieutenant Franco Damián Grupico (27) were indicted as "secondary participants" but not detained.
Chirino's family and Federal Prosecutor Fabián Martínez had appealed Federal Judge Gustavo Fresneda's decision to proceed with "manslaughter" charges.
The Higher Court also sent a copy of their decision to the Ministry of Justice and Human Rights of the Nation, to the Ministry of Defense, and to the Argentine Army "in order to take note and avoid in the future practices compatible with 'initiation rituals', in clear violation of the rights of second lieutenants of the Armed Forces."
Second Lieutenant Chirino was 22 years old when he died on June 19, 2022, after a brutal initiation ritual he had along with two other newly graduated second lieutenants.
"I will do everything possible to get justice," Chirino's father Ezequiel said at the time. "They killed my son," he added. "It was not an accident, it was an abuse of authority," he insisted, meaning that his 22-year-old son had drunk all that alcohol, not of his own free will but compelled by his superiors.
According to Corrientes media, Chirino choked to death in his vomit, while technically he died from "broncho-aspiration due to food" after ingesting a large amount of alcohol and food during the celebration, also known as "baptism."
Ezequiel, who lives in Río Cuarto in the province of Córdoba, said he was in Paso de los Libres that evening after accompanying his son to his new post. Hence the "welcome" party.
"In the Army that's a tradition, anyone knows that. They made him drink, then they forced him to jump into the pool and what happened happened. They killed my son, it was not an accident, it was an abuse of authority," Chirinos Sr. said.
He also pointed out that the unit chief gave him no explanations because "obviously he is covering for those who abused their authority."
"I asked him if he had a heart, because I have never in my life met such a cold guy, who instead of containing me because I was alone with my dead son, had a total coldness," he added.
"A whole family is destroyed, we are broken. I am going to get advice and I will do everything possible to get justice."
Chirino also said that the Army officers involved in his son's "welcome" party "should not be dismissed; they should be sent to prison because they abused their authority and killed a 22-year-old boy."