Four Argentine soldiers killed in lorry crash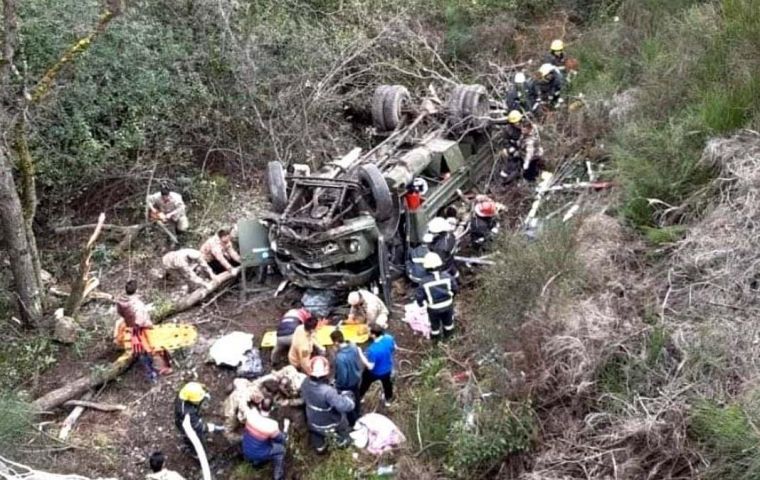 Four servicepeople of the Argentine Army died Thursday and 18 others were injured when a a Mercedez Benz 1518 lorry derailed on Provincial Route 62 in the San Martín de los Andes area in the Patagonian province of Neuquén as it was bringing back the soldiers to their barracks after high mountain skiing practice.
According to witnesses, the vehicle apparently lost its braking capabilities as it passed over a curve on Route 62 in an area known as the "snail's ascent" and plunged into a yard some 12 meters below about seven meters from an inhabited house.
The victims were identified as Lance Corporal Cristian Gonzalez, Corporal Martin Roman, volunteer soldier Oscar Morales, and volunteer soldier Guadalupe Canuillan.
"The Argentine Army truck, which was carrying between 20 and 24 soldiers, lost control, collided with the guardrail and fell into a ravine. Work is being done on the rescue part. Once everything is finished, we will start with the experts' work to determine if it was a mechanical and/or human cause," Cristian Sáez of the Neuquén Police told reporters.
The weather in the area was reported to be unstable, with rain during most of the day, and a forecast of snowfalls from sunset onwards.
One of the injured was said to have been discharged from a local hospital later Thursday.
"On this day, during the retreat to the barracks of the personnel of the Mountain Exploration Cavalry Regiment 4 who were carrying out an operational training activity in the vicinity of Lake Lolog, the vehicle in which they were being transported derailed while driving on Provincial Route 62," an Army statement read.
"In this difficult moment, the Argentine Army expresses its condolences and accompanies in its sorrow the families and loved ones of the deceased personnel," it went on.
"I deeply regret the accident that occurred today in San Martin de los Andes, in which members of the IV Mountain Exploration Cavalry Regiment died and were injured. My condolences to their loved ones and comrades," said Defense Minister Jorge Taiana on X (formerly Twitter).
Economy Minister and presidential candidate Sergio Massa posted a similar message: "I deeply regret the accident in which members of the @Ejercito_Arg belonging to the Regimiento de Caballería de Exploración de Montaña 4 de San Martín de los Andes died and were injured. Our condolences to their loved ones and comrades."