Argentina thanks G77 plus China for support regarding Falklands/Malvinas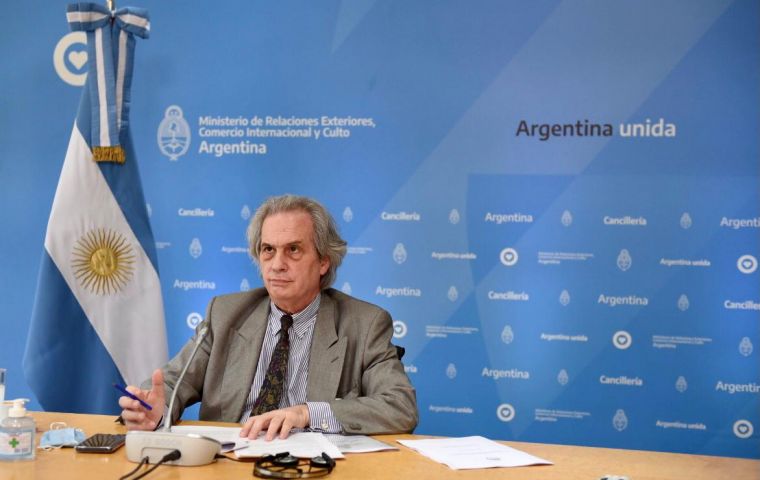 The Argentine administration of President Alberto Fernández Saturday expressed its gratitude towards the Group of 77 (G77) plus China for its support regarding the South American country's claim over the Falkland/Malvinas Islands.
The Foreign Ministry issued a communiqué Saturday explaining that during the ministerial meeting held on the sides of the United Nations 78th General Assembly, the 134 countries of the G77 plus China "reiterated the call for Argentina and the United Kingdom to resume negotiations on sovereignty over the Malvinas Islands" while highlighting "its satisfaction for Argentina's willingness and readiness to hold negotiations for that purpose."
The Palacio San Martín then expressed its gratitude for this "new demonstration of the solid and broad support of the international community for the United Kingdom to agree to negotiate with Argentina a peaceful and definitive solution to this anachronistic colonial situation."
Argentine Deputy Foreign Minister Pablo Tettamanti, who participated in the meeting on behalf of the Argentine Government, thanked "the unconditional support" of the G77 plus China, and insisted on Buenos Aires' "full willingness" to establish with London a "renewed bilateral agenda on the South Atlantic that includes, among other issues of interest to both parties, the resumption of negotiations on sovereignty".
"Last June, the presidency of the G77 plus China, in charge of Cuba, intervened on behalf of the 134 countries of the Group at the session of the Special Committee on Decolonization on the question of the Malvinas Islands in which a new resolution was adopted urging the resumption of bilateral negotiations," the Foreign Ministry also stressed.
(Source: Xinhua)