As London's Met Police elite force protests, British Army on standby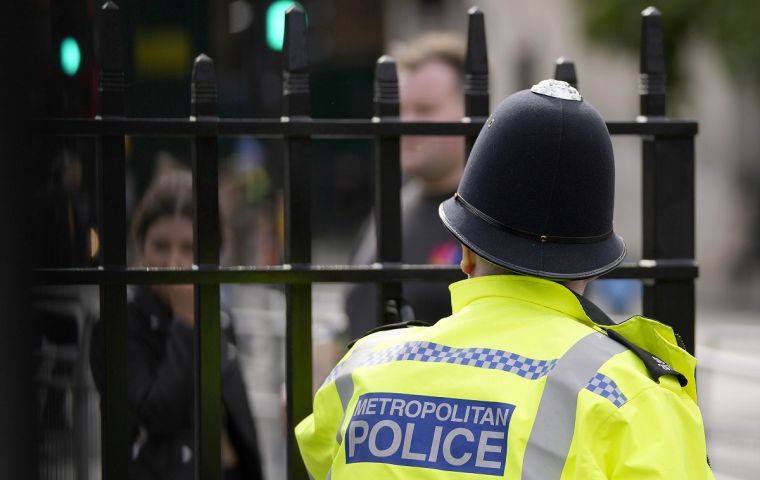 Great Britain on Sunday put its army on standby after a number of London metropolitan police officers handed in their weapons in support of a fellow officer who has been charged with murder over the fatal shooting of a young black man.
The UK's Ministry of Defense confirmed it will now assist the police with specific tasks, a reference to support for counter-terrorism duties for which London's Metropolitan Police has specialist firearms officers.
Police in Britain are not routinely armed and the small proportion (1 in 10 in London) who are authorized to carry guns are highly trained. According to one media report, around 100 Met police officers have stepped back from firearms duties.
The stoppage follows the appearance in court last week of a London firearms officer, named only as NX121, who has been charged over the death of 24-year-old Chris Kaba in September 2022.
Kaba died hours after he was struck by a single gunshot fired into the vehicle he was driving in the Streatham area of south London. He was unarmed at the time of the incident.
The case renewed allegations of institutional racism within the Met police.
Kaba's family welcomed the murder charge against the officer, who was granted conditional bail and is expected to stand trial next year.
The unusual protest prompted Home Secretary Suella Braverman to stress that firearms officers have to make "split-second decisions" and "mustn't fear ending up in the dock for carrying out their duties."
A Met Police spokesman said, "a number of officers have taken the decision to step back from armed duties while they consider their position," with the number rising in the past 48 hours.
"Many are worried about how the decision impacts on them, on their colleagues and on their families," the spokesman said.
"They are concerned that it signals a shift in the way the decisions they make in the most challenging circumstances will be judged," he said.
The Press Association reported that firearms officers from neighboring police forces stepped in to help patrol the capital on Saturday night. Anyhow Met said it still had "significant firearms capability."
However soldiers could now be called on to do specific tasks the police are unable to perform, but they won't be doing routine police work or have the power of arrest.
Fatal shootings by police in Britain are rare. Other than Kaba, since 2020, eight other people have died in incidents involving a UK police officer.
The incidents mostly involved violence by the perpetrator using knives or firearms.
It is also extremely rare for British police officers to be charged with murder or manslaughter over actions performed while they were on duty.
In one of the few cases in recent years, a police constable was sentenced in 2021 to eight years in prison for the killing of a former professional soccer player who died after being shot by a stun gun and kicked in the head during an altercation.
The officer, Benjamin Monk, was cleared of murder but convicted of manslaughter.
The Met, the UK's largest police force, has faced pressure in recent years over a string of scandals including the kidnap, rape and murder of Sarah Everard by a serving officer.
The force currently has around 1,000 officers suspended or on restricted duties while they are investigated for alleged wrongdoing and incompetence.
In March an independent review found the London force had lost public confidence because of deep-seated racism, misogyny and homophobia.
The force says it is committed to root out misconduct, but admitted last week it could take years to remove all corrupt officers.