Doko challenge to honor Gurkhas who helped liberate Falklands
Monday, September 25th 2023 - 09:55 UTC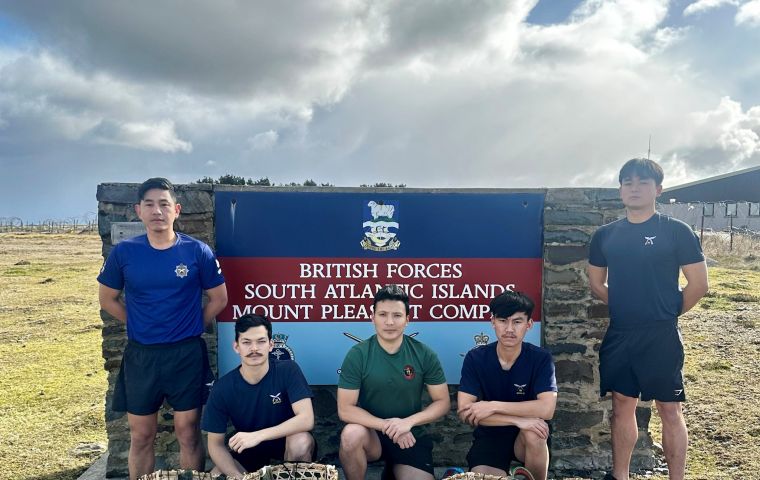 Last Saturday, military personnel from across BFSAI took part in a Gurkha Doko challenge in memory of those who liberated the Falkland Islands. The sixteen participants ran a combined total of 40km, the distance from Mount Pleasant Complex to the Gurkha Memorial near Stanley, carrying a weighted doko basket.
The Doko is a traditional Nepal basket made out of bamboo. It was used with a shoulder strap or a head strap called namlo used in rural areas to carry goods from one place to another. In the early times there were hardly a transport or motor roads to carry out goods, an the V shaped bamboo basket were used as a container or basket to carry goods and also for other services.
The Gurkha selection process is one of the most difficult in the world, on average 10,000 young men apply each year for the 200-300 places available. In Nepal the traditional Gurkha recruitment doko race is an uphill sprint in the Himalayan foothills, carrying the doko on their backs. The traditional centuries old doko basket in this particular event meant runners carried 10kg in their baskets.
In related news on Friday 29th September BFSAI are planning to conduct an emergency response exercise simulating a helicopter crash at the Lower Helicopter Landing Site for the Mount Kent Remote Radar Head.
The Falkland Islands government are aware, and will be involved in the exercise. This exercise will not involve weapons or pyrotechnics, but people may notice emergency service vehicles, and slightly increased traffic on the Stanley to MPC road, and the North Camp road as far as the Mount Kent turn off.