Nicaraguan court hands down prison sentences to two women opposing Ortega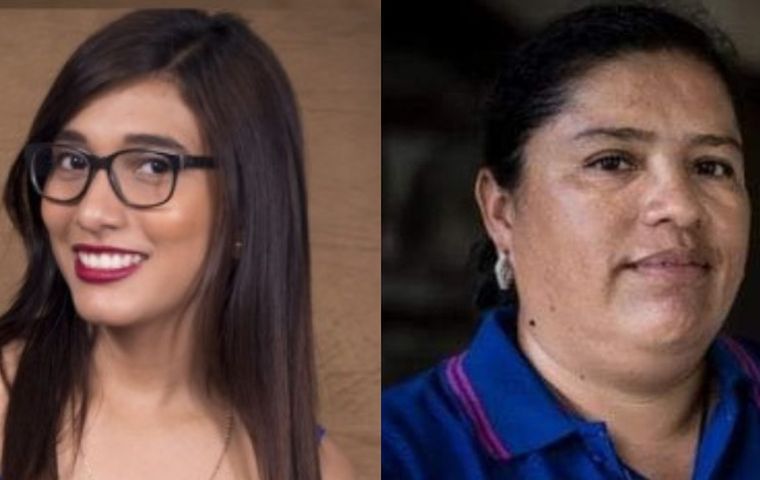 Nicaraguan opposition leaders Olesia Muñoz Pavón and Anielka García have been sentenced to 10 and 8 years in prison, respectively, for spreading false news and conspiring to undermine national integrity, which amounts to "treason," it was reported from Managua on Sunday.
Muñoz Pavón, 51, who has been imprisoned since April for her involvement in the 2018 demonstrations, was convicted of spreading false news and conspiracy to undermine national integrity, which amounts to treason, according to local news sites such as "Confidencial" and "100% Noticias." The woman, who belongs to the choir of a parish in the municipality of Niquinohomo, was detained before the fifth anniversary of the demonstrations against the government of President Daniel Ortega.
In August 2018, in the context of the anti-government protests, the police accused Muñoz Pavón of being the leader of a "terrorist" group that committed "criminal acts against the population" and public and private institutions in the department of Masaya (south).
The Public Prosecutor's Office charged her with terrorism, organized crime, kidnapping, extortion, robbery with intimidation, and obstruction of public services. She remained in prison until June 2019, when she was released under an amnesty.
She is a pastoral minister in the choir of the Santa Ana parish in Niquinohomo; she is a delegate of the Word in the El Portillo community and works in a store in a market in Managua, according to the social movements there. Muñoz Pavón is a lay Catholic who became known for singing religious songs in the women's prison, La Esperanza. She is also a single mother.
García was sentenced to 5 years in prison for spreading false news and another 3 years for conspiracy to undermine national integrity, in addition to being disenfranchised and fined US$ 1,063. A marketing graduate of the state-run National Autonomous University of Nicaragua (UNAN-León), García was arrested at her silk-screen printing business on April 4, 2023. She is a single mother of two children: an 8-year-old and a 16-year-old, who are now in the care of their grandmothers.
The 2018 protests left at least 355 people dead, according to the Inter-American Commission on Human Rights (IACHR). However, some NGOs believe the total reached 684, while Ortega's regime admits there were "more than 300" in what it claims was an attempted coup.