Canada's House of Commons Speaker steps down after honoring Nazi soldier
Wednesday, September 27th 2023 - 09:17 UTC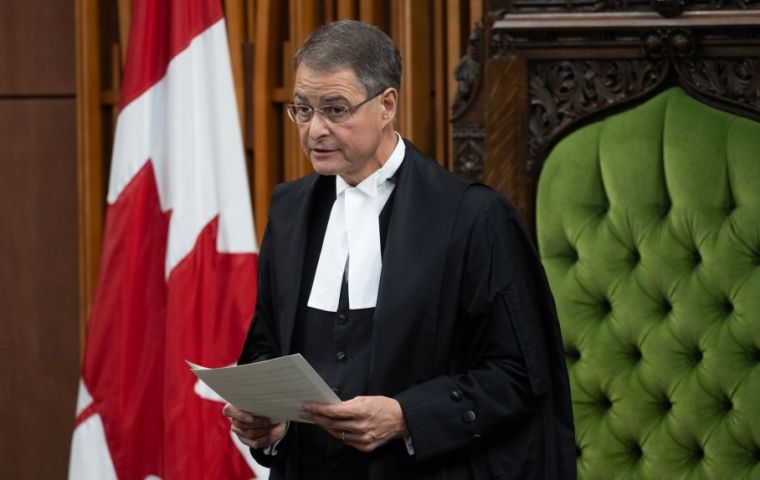 Anthony Rota Tuesday turned in his resignation as Speaker of Canada's House of Commons following the recognition as a hero of a former Ukrainian member of Germany's Nazi SS Waffen. He said he would leave his position at the end of Wednesday's session.
The 98-year-old Yaroslav Hunka, Rota's guest during Ukrainian President Volodymyr Zelensky's address to Canadian lawmakers last Friday, was cheered and applauded by lawmakers from all parties as well as by Prime Minister Justin Trudeau.
After that, worldwide condemnation ensued, particularly from the governments of Russia and Poland. "The work of this house is above any of us. Therefore, I must step down as your speaker," Rota said Tuesday. "I reiterate my profound regret for my error" which in opposition leader Peter Julian's words "puts the entire House in disrepute."
"I have acted as your humble servant, carrying out the important responsibilities of this position to the very best of my abilities," Rota also said while admitting that the "public recognition" he gave to a former Nazi soldier "caused pain to individuals and communities," including Jewish people, Poles, and "other survivors of Nazi atrocities."
Trudeau, who leads the Liberal Party, of which Rota is a member, described the ceremony as "deeply embarrassing for the House and for Canada."
"My family are Jewish Holocaust survivors. I would have never in a million years stood and applauded someone who aided the Nazis," said Ontario MP Karina Gould. "This is very emotional for me," she added.
Rota hailed Hunka as "a Ukrainian hero, a Canadian hero… who fought for Ukrainian independence against the Russians" but forgot to mention that Hunka fought in the elite Waffen SS First Ukrainian Division, a volunteer unit created by the Nazis in 1943, which was noticed by the Associated Press. The 14th Waffen Grenadier Division of the SS -also known as the Waffen-SS Galicia Division- is known to have committed atrocities against Jews and Poles.
"There should be no confusion that this unit was responsible for the mass murder of innocent civilians with a level of brutality and malice that is unimaginable," said the Toronto-based Friends of Simon Wiesenthal Center (FSWC), a Jewish rights group that also pointed out Rota's action "compromised all 338 MPs" and "handed a propaganda victory to Russia."
In the aftermath of Hunka's public appearance, Polish authorities said they would seek his extradition.
B'nai Brith, another Jewish group, said the government must make the Duchesne Commission's 1980s-era report public in its entirety so the country can learn the true extent of Ukrainian Nazi activities in post-Second World War Canada. "We cannot move forward as a country from Friday's humiliating debacle without the government committing to finally opening its wartime records," said Michael Mostyn, B'nai Brith Canada's CEO.
As many as 2,000 Ukrainian members of Adolf Hitler's Waffen-SS are believed to have been admitted to Canada after the war.
While a new Speaker is voted next Tuesday, Bloc Québécois MP Louis Plamondon will take over the role on an interim basis.