No agreement reached during Paraná Waterway multilateral meeting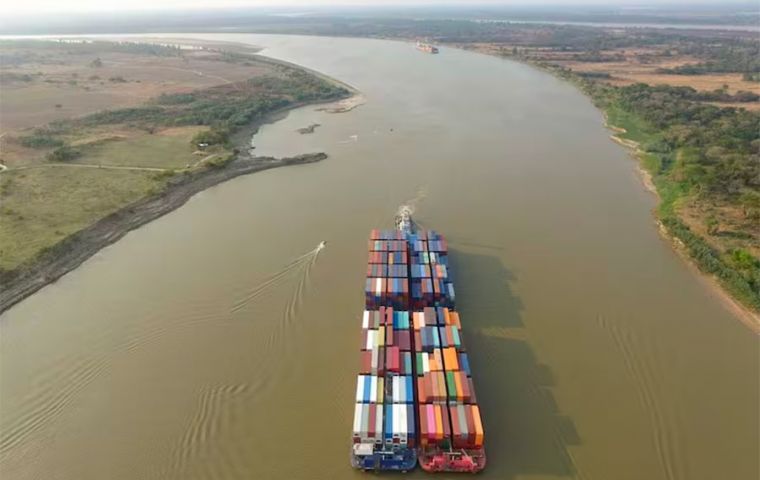 Argentina will continue to charge a toll to barges sailing through the Paraná River Waterway after no agreement was reached Tuesday during a Technical Commission meeting at the Brazilian Embassy in Buenos Aires.
The hosting country claimed that the toll was necessary to finance dredging, re-dredging, signaling, and beaconing in the Paraná waterway, which drew strong objections from the other participants who wondered how those costs were measured. Argentina replied by proposing specific criteria for this task and produced a consulting study conducted by ECLAC (Economic Commission for Latin America and the Caribbean). Argentina had announced the implementation of tolls in 2022, but postponed the enforcement as a gesture of goodwill, it was also argued.
These methods were questioned because they did not conform to common practices in the region in addition to being too broad and generic.
"Argentina did not propose a revision of the applicable tariff and did not agree to the suspension of the toll," insisted the affected parties, who also underlined a discriminatory practice whereby Argentine vessels are charged a differentiated rate depending on the origin of the cargo.
"Today the technical body met. Each delegation stated its objections or points. Paraguay maintained that there was no cost to justify the toll charge, while Argentina even introduced a new calculation paradigm. We objected, as did the other delegations. Argentina refuses to establish a status quo and did not propose a reduction of this rate either," Julio César Vera Cáceres, head of Paraguay's National Administration of Navigation and Ports (ANNP), told Asunción's Última Hora. He also said Bolivia, Brazil, and Uruguay shared such a view.
Vera Cáceres also foresaw no giving in during the Intergovernmental River Crossing Committee gathering scheduled for Wednesday. He then anticipated an arbitration might be the next step.
The waterway along the Paraguay and Paraná rivers allows Paraguay's exports to reach the Atlantic Ocean and is essential for the South American country's foreign trade. Argentina charging US$ 1.47 per ton of cargo rattles the entire business. In response, Paraguay has cut all electricity supply from the Yacyretá dam to the neighboring country citing a US$ 93 million debt.