Argentina: Former minister and tax bureau chief both acquitted in money smuggling case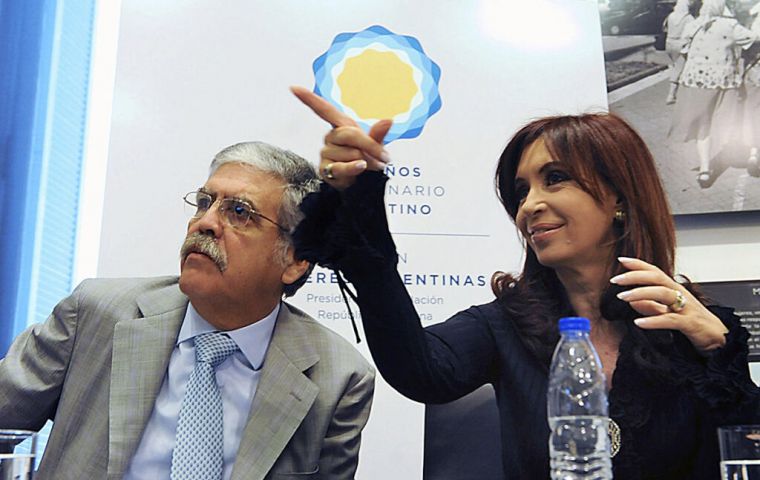 A court in Buenos Aires Wednesday acquitted former Planning Minister Julio De Vido and AFIP tax bureau Chief Ricardo Echegaray for the 2007 attempted smuggling of a suitcase containing nearly US$ 800,000 which was being brought into the country by Guido Antonini Wilson, who was believed to be an envoy of then-Venezuelan President Hugo Chávez.
The Judiciary did sentence Claudio Uberti, the former head of the Road Concessions Control Body (Occovi), to four years and six months of effective imprisonment for the same crime while four former Customs officials were given suspended prison sentences for the "concealment of aggravated smuggling." The grounds for the decision will be announced on Nov. 27, it was reported. Wednesday's ruling is open to appeals.
Uberti, who shared with Antonini Wilson a private flight arriving at Buenos Aires Jorge Newbery Airport, insisted that "it was demonstrated before my few friends that I have, my family, my few labor ties that I had no participation whatsoever, all the rest are rumors" and underlined the fact that his Venezuelan travel mate "today is a fugitive." Uberti also claimed that it was Antonini Wilson who "stayed until the early hours of the morning counting the bills of his property, offered to distribute them, and signed the minutes."
On August 4, 2007, Antonini Wilson tried to pass through customs a suitcase containing the money, after arriving in the country on a private flight hired by the state-owned company Enarsa and performed by an aircraft belonging to the Venezuelan state-owned PDVSA oil company.
Antonini Wilson left Argentina as soon as the incident went public and settled in the United States, from where his extradition could not be achieved by authorities in the South American country.
Attorney General Marcelo Agüero had requested 5 years of imprisonment for De Vido, and 4 years and 10 months of imprisonment for Uberti, the former head of the Road Concessions Control Body (OCCOVI) as co-perpetrators of the crime of attempted smuggling of foreign currency imports.
In a trial in the United States, Antonini Wilson said the money was for Cristina Fernández de Kirchner's campaign, so the prosecution understood that the Venezuelan envoy brought the suitcase at Uberti's request acting on orders from De Vido.
Regarding the fate of the cash, it has been reported to have been allocated to public welfare ends after being seized years ago by Judge Pablo Yadarola.