Migration crisis; state of emergency in Costa Rica to deal with massive influx of people heading for US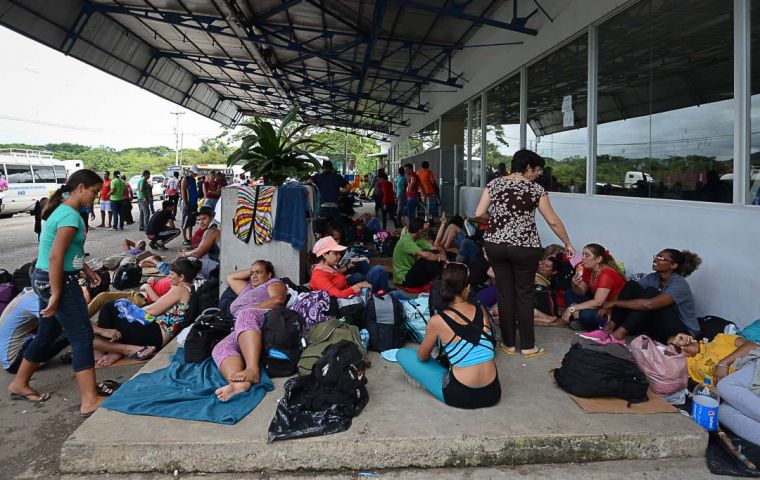 Costa Rica in Central America intends to declare a state of emergency due to an increased wave of migrants on their way to Mexico and later cross to the United States. "I have instructed the security ministry to take a firm stance with anyone who takes Costa Rica's kindness for weakness," Costa Rican President Rodrigo Chaves said at a media briefing, referring to recent riots by migrants crossing the nation.
Since January, more than 386,000 migrants have passed through the border from Panama into Costa Rica.
Officials say that so far in September, over 60,000 people have crossed Paso Canoas, the Costa Rican border town shared with Panama that is home to less than 20,000 people.
"We all know that throughout the Americas there is a huge migration crisis," the president said. Chaves is set to visit Panama in October to discuss the issue.
Apart from Central America, a rising number of people are also making their wary from Venezuela, Haiti and Cuba, as well as from Africa and Asia, in a bid to flee poverty, violence and extreme political situations in their home countries.
Mexico has tightened controls to stop migrants from boarding freight trains as stowaways.
This week, a European Union mission headed by Germany's human rights commissioner raised concern about the situation in Central America following a trip to the region.
"We are dealing with a region in a state of crisis," Luise Amtsberg said after concluding her trip in Costa Rica.
She met with human rights activists from Nicaragua and El Salvador. Both countries are ruled by left wing and right wing populists.
In Nicaragua Daniel Ortega, the populist turned into dictator is taking extreme steps to stifle opponents. "People are exiled, their possessions and pensions are taken away, their existence is practically erased. All places of critical thought are gradually falling victim to this authoritarian policy," Amtsberg added.
In "In El Salvador, democratic structures are being systematically dismantled, a state of emergency has been in effect for 16 months and almost 2% of the population is in prison — no one who speaks out against can be sure that they won't soon face the same fate," Amtsberg said.
Not surprisingly many political refugees are finding shelter in Costa Rica. "But Costa Rica is reaching its breaking point — we are very clearly at a tipping point here," Amtsberg said. "There is still space and protection, but recently there has also been a debate about a more restrictive asylum policy."
Meanwhile from Chile authorities have reported that in the first eight months of the year some 35,000 people have entered the country illegally or in an irregular condition. The Migration Observatory from Chile estimates that the number should be reaching 50,000 by the end of the year, a number similar to the previous two years.
According to the Observatory migration to Chile is not a new phenomenon but since a new Migration Bill was implemented in 2021 the number of people crossing the border into the country has trebled. This despite the fact that the new bill demands migrants to have their passports stamped and authorized in the Chilean consulates of their countries or origin, to avoid foreigners entering Chiule as tourists and end working in the country.
Most migrants are from Venezuela, Cuba, Dominican Republic and Haiti.