Falklands Rockhopper claims the oil company is in "its strongest position"
Saturday, September 30th 2023 - 09:58 UTC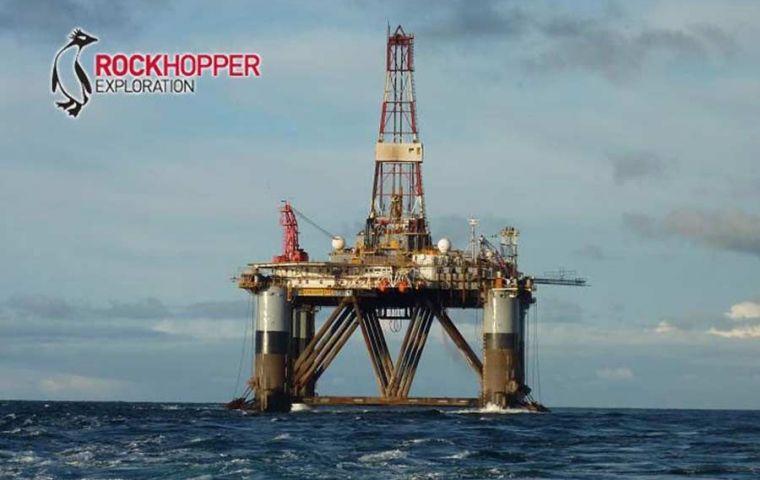 The oil and gas exploration company with interests in the Falkland Islands, Rockhopper Exploration PLC, declared a pretax loss in the six months ended June 30 of US$ 2.6 million, from USD749,000 a year prior, as administrative expenses jumped 40% to 2.1 million pounds.
However, according to Business Live, the company argued that "the existing portfolio continues to be evaluated for further opportunities, but revenue and cost of sales are not expected to be material in the immediate future."
Looking ahead, says Rockhopper, work continues on refining a new lower cost development and a financing plan for its Sea Lion project in the Falkland Islands.
Bosses at the company have said the company is in its strongest position for "considerable time", despite posting a widened loss for the first half of the year. Rockhopper in association with Navitas from Israel, is currently developing a major oil field off the north of the Falkland basin in an area known as Sea Lion
The Aim-listed company recorded no revenue during the first half of 2023 period, with the board saying "production ceased during the prior year".
The firm's senior leadership said its portfolio was being evaluated for further opportunities, but revenue and cost of sales were "not expected to be material in the immediate future".
Rockhopper said the increase in loss after tax was driven "mainly by a reduction in net foreign exchange gains".
Last year the company was awarded €190m (£162m) in damages from the Italian government after the it cancelled an oil rig project in 2015, amid concerns from environmental campaigners.
The Italian government is now seeking to annul the compensation award, which concerns Rockhopper's Ombrina Mare field in the Adriatic Sea, off the coast of the southern region of Abruzzo.
Rockhopper recently appointed Simon Thomson, the former chief executive of fellow oil and gas company Capricorn Energy to assist with the ongoing dispute. The firm said an annulment hearing was set for January.
Outgoing chairman Keith Lough said: "After nine challenging and enjoyable years, John Summers and I will leave Rockhopper in the strongest position your company has seen for some considerable time. We have a committed, focused, and capable partner that has already worked up a hugely impressive lower cost, highly capital efficient project at Sea Lion.
"In addition, the Stay of Enforcement on our €190m ICSID award is now lifted and we are working with our advisers on all avenues to monetize this award. Our 2022 capital raise allowed us to extend our licenses, bring Navitas on board and continue to contest the arbitration."
Last September, Israel/Houston gas and oil firm Navitas Petroleum acquired UK-based Harbour Energy's stake in the Sea Lion project, which is 35% owned by Rockhopper. Investors are convinced the offshore oil field is capable of producing more than 120,000 barrels per day. Finally BusinessLive reports in its latest update to investors that the Rockhopper board said work was continuing to refine Sea Lion's project phasing and financing plan.