Brazil: Trade surplus projections upped for 2023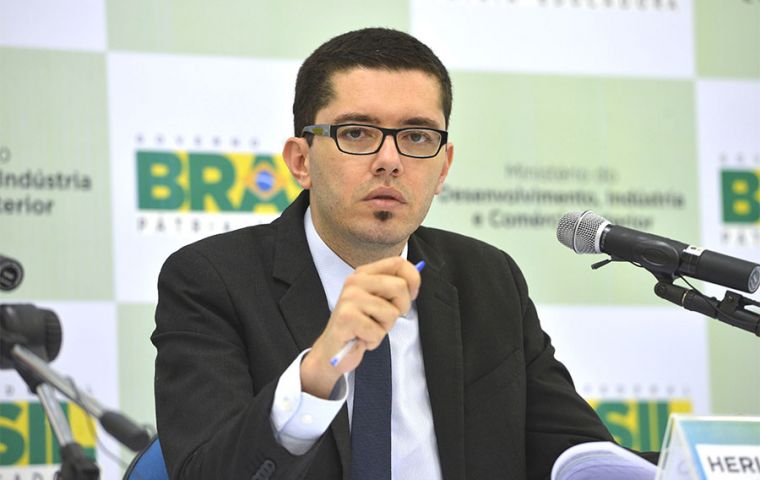 Brazil's Ministry of Development, Industry, Trade and Services (MDIC) has improved its projections for a foreign trade surplus this year from US$ 84.7 billion to US$ 93 billion, Agencia Brasil reported Monday.
These new figures stem from a slight increase in exports and the decrease in the price of the products imported, the MDIC explained. Hence, the surplus (exports minus imports) in 2023.
If confirmed, the MDIC projection, which is updated every three months, the surplus will be 51.2% higher than the positive balance of US$ 61.525 billion recorded in 2022, so far the best result in history.
The trade balance is expected to rise because imports will fall more than exports compared to the 2022 results. The government expects to export US$ 334.2 billion in 2023, a slight increase of 0.02% on the US$ 334.1 billion the country exported last year. On the other hand, imports are expected to reach US$ 241.1 billion, down 11.5% from the US$ 272.6 billion bought from abroad in 2022.
Compared to July's projections, exports rose by US$ 4.2 billion. The forecast for imports fell by US$ 4.1 billion. Undersecretary for Foreign Trade Intelligence and Statistics Herlon Brandão said the upward revision of the trade surplus was due to the robust performance of exports, despite the fall in the price of some commodities (primary goods with an international price).
"Since the first revision [of the estimate for 2023], we had already seen that it would be a robust, record balance. Growing volumes [in exports] meant that the result was higher than expected," said Brandão, pointing out that this will be the first year in which Brazil will record a trade surplus of more than US$ 70 billion.
With regard to imports, the secretary explained that the drop was mainly due to a reduction in the purchase of intermediate goods. Imports of capital goods (machinery and equipment used in production) rose 9.9% year-on-year. As for consumer goods, purchases from abroad rose by 17.2%.
According to the MDIC, two factors are behind the record balance in 2023. On the one hand, the prices of energy commodities, such as oil, and items such as fertilizers are on a downward trend after peaking at the start of the war between Russia and Ukraine. On the other hand, the slowdown in the economy is likely to lead to a fall in imports, due to the downturn in consumption.
The war between Russia and Ukraine has had an impact on imports in recent months. International prices for fertilizers fell by 50.4% in September, compared to the same month last year. The average price of imported fuels fell by 15.7% in the same comparison. The average price of wheat, another product that Brazil imports in large quantities, fell by 36.1%.
(Source: Agencia Brasil)