Avian flu keeps killing seashore mammals along South Atlantic shores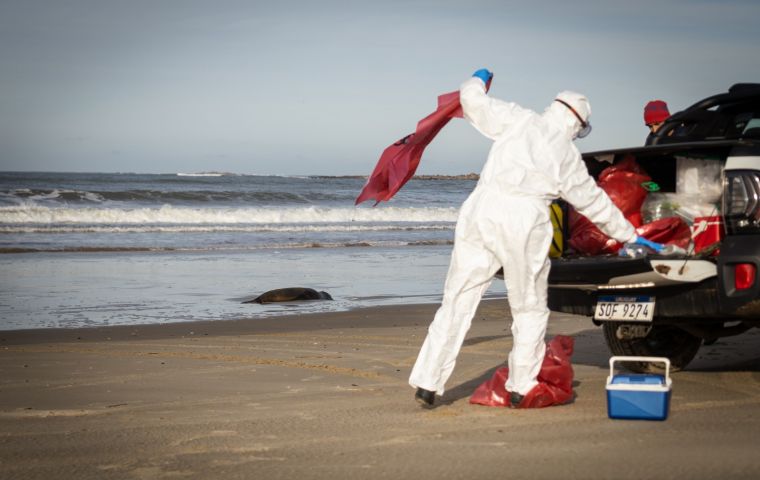 Health authorities in Brazil, Uruguay, and Argentina are increasingly concerned over the appearance of hundreds of dead sea lions presumably killed by avian flu, it was reported.
Off the Uruguayan city of Chuy bordering Brazil, some 552 dead sea were found lifeless as fears mount that the disease might spread uncontrollably.
In addition, more than 500 sea lions died on the southern Brazilian coast, victims of an outbreak of avian influenza, the government of the state of Rio Grande do Sul said last week. In the small city of Santa Victoria do Palmar alone, 164 dead animals were registered on Friday.
Brazilian authorities said that "from now on, no more samples will be taken from animals of the same species where the virus has already been confirmed", restricting the tests only to new species showing symptoms. Although human infection is unusual, residents were advised not to approach the animals or birds.
In early October, the Ministry of Agriculture and Livestock reported the first outbreak of the disease in marine mammals in the country, in Cassino, a beach in Rio Grande do Sul. However, Brazil continues to have "disease-free" status because "no commercial production was affected."
Peru, Chile, and Argentina also recorded deaths in their marine fauna due to the virus, which causes severe muscular, neurological, and respiratory symptoms. It is transmitted by oral and respiratory routes and is spread by secretions and excretions.
Argentine specialists in Mar del Plata said that on the beaches of the province of Buenos Aires alone, over 700 sea lions died in a little more than two months affected by avian flu. The National Animal Health Service (Senasa) found that one in three of the dead animals succumbed to the virus, thus dealing a blow to the colony that has an important presence between the Fishermen's Bench of the South Escollera and is also a tourist attraction. Specialists are reluctant to say that the situation is under control, but they do believe that the worst is over. The hardest part was since mid-August and throughout September as alerts kept coming from different points of the seafront. In Argentine Patagonia, almost 2,500 elephant seals were found dead due to avian flu. Most of them were calves.
Last weekend, 707 bodies were found on the Buenos Aires shores and transferred under sanitary protocols to their site of burial. Of this total, 245 were recovered in Mar del Plata. Some other fifty animals were treated for showing symptoms such as tremors, spasms, vomiting, and other signs frequently found in cases of avian influenza.
"We continue with the rules of care because we remain attentive to the evolution of the cases," the head of Senasa in Mar del Plata, Manuel Baldovino, told La Nación. Although there is no history of cross-transmission between animals and humans, the priority is not to run risks.
According to other reports, the Valdés Peninsula Valdés is a cemetery of elephant seals. Argentina's National Agrifood Health and Quality Service (Senasa) confirmed the cause of death was avian flu.
The Argentine branch of the Wildlife Conservation Society warned about "the extreme mortality of southern elephant seal (Mirounga leonina) calves in Península Valdés attributable to highly pathogenic avian influenza H5N1."
"This started in Peru where we began to see deaths of sea lions and birds. Then it went to Chile and from there it crossed to Argentina where first it was the sea lions. Now it has reached the Valdes Peninsula and is affecting the elephant seal population," Biologist Claudio Campagna explained.
"Last year we had about 3,300 live hatchlings, where 1 or 2 out of 100 could die. Currently, the situation is alarming because now 90 out of every 100 hatchlings die," he also told Clarín.
"It is the first world record of massive mortality of elephant seals due to avian influenza," he said.
"What is happening is that just as in all of Argentina and in the Southern Cone, Chubut is the only important population, in quantity, of elephant seals," he added while pointing out that the situation was "alarming" and that no solution was available "because there is no vaccine that can be applied to the animal population."
Transmission to humans was also not to be ruled out. "Prevention measures are being worked on in conjunction with the provincial wildlife agencies," a spokesperson for Senasa explained.