Uruguay appoints acting Foreign Minister: Diego Escuder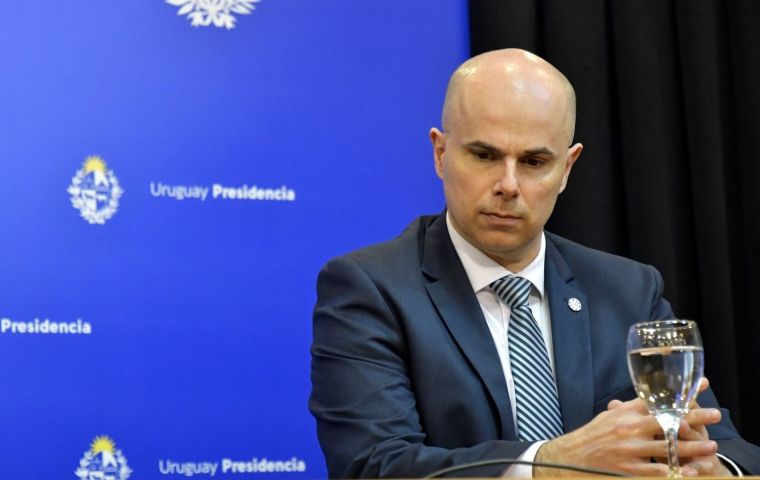 The Uruguayan government on Thursday appointed Diego Escuder as acting foreign minister, following the resignation earlier this week of Francisco Bustillo, who was embroiled in a scandal over the issuance of a passport to known drug trafficker Sebastián Marset.
See also: Uruguayan Foreign Minister resigns amid scandal involving well-known drug trafficker
Until Thursday, Escuder served as director general of the secretariat of the foreign ministry, it was reported in Montevideo, while Deputy Foreign Minister Nicolás Albertoni was ratified.
Escuder has a master's degree in international relations and served as head of human resources of the Mercosur (Southern Common Market) Parliament and as parliamentary advisor on international affairs. He was also a professor of international law, teaching Introduction to International Relations and Analysis of Current Affairs.
After accepting Bustillo's resignation, Acting President Beatriz Argimón appointed Escuder while President Luis Lacalle Pou is on an official mission to the United States to participate in a summit of the Alliance for Economic Prosperity in the Americas (APEP) hosted by U.S. President Joseph Biden.
Bustillo's departure is only the tip of the iceberg, as opposition leaders and members of the ruling Multicolor Coalition alike insist on further purges within the cabinet, specifically targeting Interior Minister Luis Alberto Heber.
Senator Guido Manini Ríos, leader of the Cabildo Abierto, a far-right party within the ruling alliance, said that President Lacalle should explain the actions of his advisor Roberto Lafluf, who was directly involved in the Marset scandal.
"Enter a new element, which is the Presidency of the Republic, because clearly Mr. Lafluf, at least from what one has the right to believe, is not acting on his own when he calls this meeting and when he asks for some documents to be falsified," said the retired army general, who insisted that this crisis "will not be resolved only with Bustillo's resignation."
Marset, a fugitive from justice involved in cocaine trafficking in the region, was given a Uruguayan passport in 2021 through an express process while he was detained in Dubai (United Arab Emirates) for trying to enter the country with a false Paraguayan passport. In August of this year, he managed to escape from a police operation in Bolivia. In Paraguay, he is under investigation for the murder of Special Prosecutor Marcelo Pecci, who was shot and killed during his honeymoon in Cartagena, Colombia.
Despite his departure, Bustillo remains on the Foreign Ministry's payroll. He is a career diplomat who joined the Service in 1986. He was Uruguay's ambassador to Spain on July 2, 2020, when Lacalle Pou's first choice for chancellor, Ernesto Talvi, submitted his resignation. Bustillo, the son of a diplomat father, thus returns to his post in the ministry, even if he does not represent Uruguay diplomatically abroad.
During his tenure as Ambassador to Buenos Aires, Bustillo came under the spotlight of Argentina's Judiciary in October 2007, amid irregularities in the acquisition of cars for diplomats of several embassies, but was safe from prosecution due to his diplomatic immunity. Bustillo was said to have purchased five luxury cars in the Argentine capital between 2005 and 2010.