Dengue vaccine available in Argentina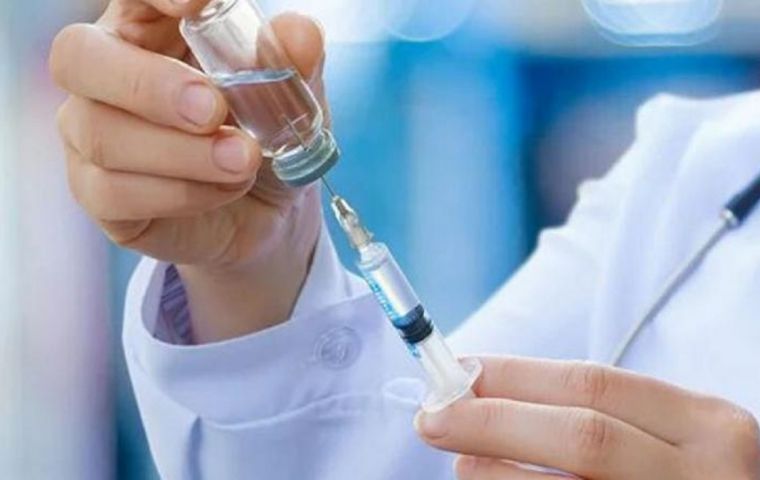 Argentine health authorities Thursday announced that the Japanese-developed TAK-003 vaccine against dengue was already available in the South American country at a cost of AR$ 37,500 (around US$ 38, at the unofficial "blue" rate).
The drug, produced by the laboratory Takeda, targets "dengue virus 2" and protects against the four viruses that transmit the disease, it was also explained after the National Administration of Medicines, Food, and Medical Technology (Anmat) approved the treatment which is already available at private vaccination centers.
The application requires a prescription from the family physician, who must evaluate whether its use is necessary or not. The scheme consists of two doses, each costing AR$37,500, with an interval of three months.
Salta will be the first province in the country to apply the vaccine against dengue. The provincial government will buy 300,000 doses for a population aged between 25 and 39 in the departments of Orán, San Martín, and Rivadavia.
The chemical is also known to include the following side effects: Redness at the injection site, headache, muscle pain or weakness, and fever, and its use is disadvised among pregnant or breastfeeding women, as well as with immunosuppressed patients.
Otherwise, TAK-003, also known as Qdenga, is recommended for people over 4 years of age, whether or not they have had the disease previously. It was first approved in August 2022 in Indonesia and then in the European Union in December 2022. It was followed by the United Kingdom in January 2023 and by Brazil's National Health Surveillance Agency (Anvisa) later this year.
The authorities seek to curb the number of cases ahead of the summer season.