Former VP Astori, architect of Uruguay's 21st century economy, dead at age 83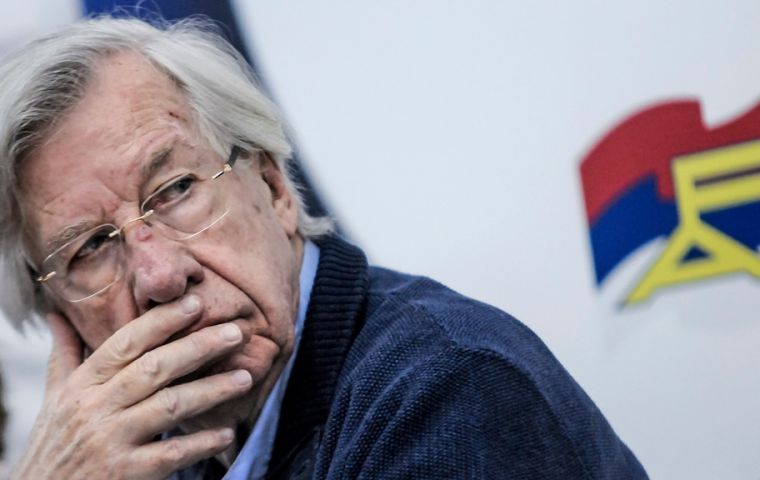 Former Uruguayan Vice President Danilo Astori (2010-2015) died Friday at the age of 83 from complications following a hip fracture for which he had been hospitalized since late October, it was reported in Montevideo. Astori had resigned his seat on the Senate late last year due to other health problems.
"We want to communicate the saddest news. The beloved comrade Danilo Astori passed away. With reason and heart, goodbye dear Danilo," Asamblea Uruguay, Astori's sector within the opposition Frente Amplio.
Astori was also Economy Minister under President Tabaré Vázquez between 2005 and 2008 and between 2015 and 2020. Between 2010 and 2015 he was vice-president under José Mujica, who had beaten him at the party's primaries. Mujica described him as "a value of the country".
"I had many times differences, but thank goodness he was there. A colleague is gone, a value of the country is gone and a piece of ourselves is gone," Mujica said.
"A strong adversary. In life one has to have adversaries to respect, to agree with, to discuss or to reaffirm ideas", said President Luis Lacalle Pou.
Canelones Mayor (Governor) Yamandú Orsi described Astori as a "companion of all hours."
"Thank you and see you always," the FA leader also wrote on X.
"We have lost a great colleague; the best way to honor him is to move forward," said Montevideo Mayor Carolina Cosse, also an FA politician. "He was a fundamental factor for a repositioning of Uruguay at the international level, but also within ourselves," she added. "We have lost a great colleague, but today I felt that the best way to honor him is to move forward, of course, in these hours of withdrawal and pain that we are all living," she said.
Astori had suffered a fall which resulted in a hip fracture for which he was hospitalized at a Montevideo clinic. During his stay at the medical facility, another study showed a microinfarction, it was reported.
Born in Montevideo on April 23, 1940, Astori attended school and high school at the Maturana School in the Bella Vista neighborhood. He then joined the School of Economics at the University of the Republic (UdelaR), where he graduated five years later, in 1963, as a Public Accountant - Economist. While still a student (1960) he joined the UdelaR's Institute of Economics as a researcher. Two years later, he became a full professor of Economic Theory II. Astori became a Grade 5 professor of the faculty and in 1972 he was appointed dean, the youngest ever at the School of Economics. He had to leave his position with the 1973 military uprising but resumed it with the return of democracy (1985) until 1989.
Astori is considered one of the masterminds behind the Frente Amplio's three straight administrations (2005-2020) that brought the hegemony of Blancos and Colorados to an end. In 1971 he was involved in the creation of the FA and in 1994 he founded Asamblea Uruguay.
He was elected to the Senate in 1990, 1995, 2000, 2005, and also in 2019 for the term starting in 2020 but was already hit by increasing health problems. He suffered from pneumonia, for which he was hospitalized between May and June 2020. After being able to attend only three sessions, he resigned in November 2022.
Astori's wake will be held Saturday at the Salón de los Pasos Perdidos of the Legislative Palace.
Also paying tribute to the former Vice President was Montevideo's Club Nacional de Football, of which Astori was a staunch fan Club. "His image in the Delgado [terrace] was a constant that we will not forget. RIP."