Argentine beef eaters turn to cheaper meats and veggie diets as incomes plunge and beef prices soar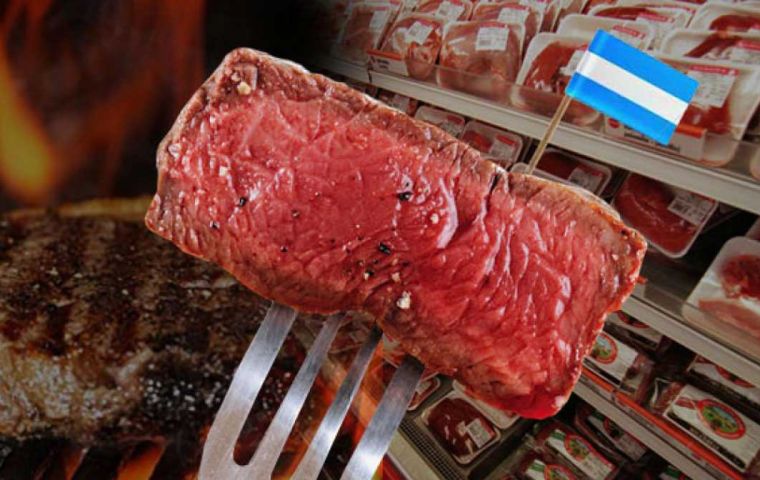 An Argentine university has elaborated a study on barbecue meat, one of the most common and popular beef cuts in the country, during a seven year period to include consumption habit changes and most importantly the increase in price of the product.
In effect, the Argentine Enterprise University, UADE, points out that in January 2017, an average salary in Argentina could purchase the equivalent of 189 kilos of barbecue meat, while six years later, September 2023, 132 kilos, that is 57 kilos less.
However UADE-s report also points out to some drawbacks, "given the inflationary price of meat and some periods of stabilized prices because of an imposed freeze, the evolution relation can improve some months, but the overall tendency is for the salary/barbecue ratio to continue decreasing".
Argentina continues among the leading countries when it comes to global beef consumption with some 51 kilos per capita, "but in recent years the tendency has reverted. To start with compared to three decades ago, when consumption per capita was 74,1 kilos, the ratio is down 23,1 kilos, meaning consumption has fallen 31% in that period"
UADE indicates that "September 1993 was the peak meat consumption period, with 74,1 kilos while the minimum period was December 2021 with 47,9 kilos",
Regarding prices, in Argentine Pesos, "at the beginning of January 2017 the average price of beef cuts was 114 Argentine Pesos, but by September 2023 it has soared to 3,108 Argentine Pesos.
UADE adds, "the kilo of chicken meat in January 2017 was 34 Argentine Pesos and pork ribs 109 Pesos. By September 2023 prices had soared to 945 and 1,869 Argentine Pesos, meaning increases of 2,779% and 1,714% respectively.
Nevertheless UADE points out that the overall consumption of meats in Argentina has increased (beef, chicken, pork) indicating that consumers have been choosing cheaper meats.
"The consumption of beef in Argentina has fallen for several reasons including more vegan and vegetarian diets, having less meat daily and the ballooning price of beef compared to the purchasing power of incomes."