Criminal complaint filed against Roger Waters in Buenos Aires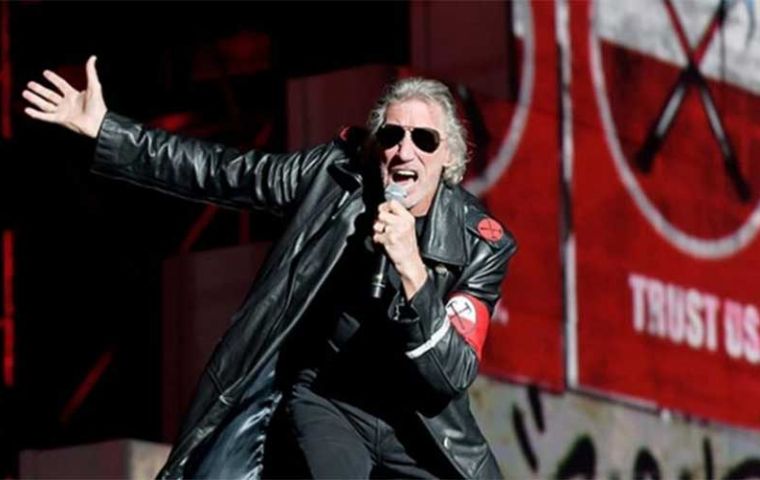 An Argentine lawyer has filed a complaint before Buenos Aires Federal Judge María Romilda Servini de Cubría against British musician Roger Waters of Pink Floyd fame for "incitement to racial hatred and apology of crime" when speaking about the ongoing crisis between Israel and the terrorist group Hamas in the Gaza Strip.
Lawyer Carlos Broitman, who professes the Jewish faith, denounced Waters' "stance and his certain and undeniable possibility of spreading his message of hate and inciting to aggravate anti-Semitism in our country" which "can only provoke the filing of the present complaint."
Broitman also noted that a similar investigation had been launched in Germany after Waters appeared in his shows wearing Nazi-style clothes "transmitting a message of hatred towards a group of people."
Waters, who is slated to perform on Nov. 21 and 22 at River Plate's Stadium, has already been denied hotel accommodations in Buenos Aires and also in Montevideo for his controversial remarks.
"On May 17 and 18 of this year at the Mercedes-Benz Arena in Berlin the British singer generated a strong repudiation for having used during the shows a black uniform, similar to those used by the Nazi SS, and the image of Anne Frank, thus giving a direct anti-Semitic message to his followers who concur with that ideology that arithmetically exacerbates hatred or the possibility of increasing attacks on the Jewish community," Broitman underlined.
"The accused - Broitman goes on - has cast suspicion on the actions of the Israeli army on the day of the attack and invasion of Israel by the terrorist group involved in the criminal events, even questioning the crimes carried out to the detriment of the Jewish community."
"Thus, a message of hatred that incites violence against a specific group has been brought to the population in general and to his followers in particular," the lawyer also pointed out.
Waters has claimed he was "not anti-Semitic" but merely condemned "what the Israeli government does."
"I know very well what I feel in my heart, and I have not had a single anti-Semitic thought in all my life. What I condemn is what the Israeli government does, and I will continue to condemn it because it is wrong, and it was wrong from the beginning. Well, the time's up: stop the genocide now! The easiest thing to do is to point to me as an anti-Semite, and it's because they have no moral compass, they can't have a solid argument from the Israeli side of the issue. They are committing murder, they are committing genocide, they are oppressing another people," Waters in an interview with Buenos Aires' Página/12.
"It is an ethnic cleansing that they have been carrying out for 75 years, since day one of the nakba. They have killed hundreds and hundreds of people, they have committed atrocities, massacres have been going on since then," he added.
"No more. It's over. But to lock me up, to send me to sleep in the barn? It's so stupid! It's crazy that people in Argentina accept this nonsense from the Faena and the Four Seasons, and whatever the other hotels are called. It's absurd, they should think a little more and behave like adults!" the British musician insisted.
Israelite Central Committee of Uruguay President Roby Schindler called Waters a "misogynist, xenophobe and anti-Semite" and accused him of "taking advantage of his fame as an artist to lie and spew his hatred towards Israel and all Jews".
Waters claims Israel was trying to "silence me because I believe in human rights and speak openly about the genocide of the Palestinian people; and I will continue to do so because genocide is being committed right now, every day in the Gaza Strip and the West Bank and all the occupied territories. And it has to stop. The time has come for all of us around the world, all brothers and sisters to say enough is enough. No more. Israel cannot be allowed to continue this disgusting genocidal rampage."
"The Roby Schindlers of this world are trying to silence me because I believe in human rights and they do not. They are a colonial society that stops at nothing, not even mass murder, to proclaim their supremacy over other peoples and other religions. The people of the world have to stop them. As human beings, it is an absolute moral duty to stand up to them. And you can write this down: it makes me laugh, it would be really very funny if it wasn't so infamous, so disgusting and stupid," Waters stressed.