Alberto Fernández meeting with Javier Milei to kick off transition
Monday, November 20th 2023 - 10:27 UTC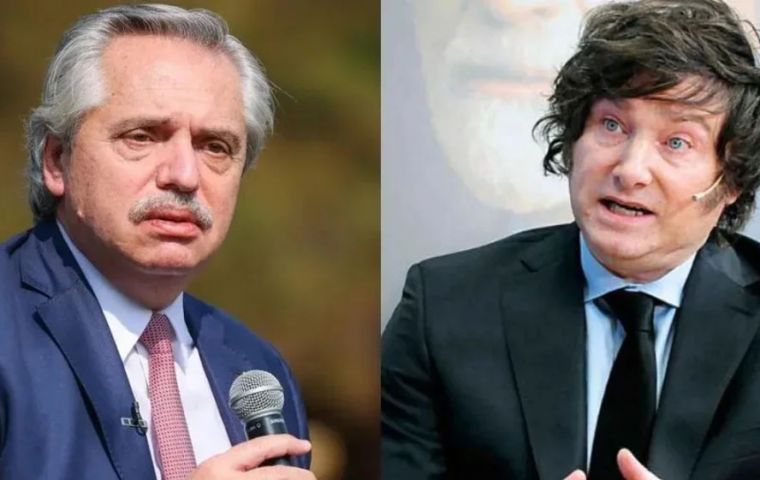 Despite the Nov. 20 national holiday in Argentina, President Alberto Ferfnández is expected to show up for work Monday and hold his first meeting with President-elect Javier Milei to finalize the details of the transition toward the Dec. 10 inauguration. "I trust that tomorrow we can start working with Milei to ensure an orderly transition," wrote the head of state on social networks. It was yet to be determined whether the encounter would be at Casa Rosada, at the Olivos presidential residency, or elsewhere.
Fernández congratulated Milei and assured that "the people have expressed their will. I am a man of democracy and I value nothing more than the popular verdict." He also thanked now-former Economy Minister Sergio Massa and Cabinet Chief Agustín Rossi for their efforts on behalf of the ruling Unión por la Patria "with the enormous strength of the militancy, their great capacity and love for the homeland have made that a great part of the country has accompanied them."
"The people have expressed their will. Millions of Argentine men and women went to vote and defined the destiny of the country for the next 4 years," said Fernández on social media. Fernández also pledged to continue "working to strengthen democracy and the institutions of the republic, in unity with all the sectors that make up the national movement that will always fight for a just, free, and sovereign homeland".
Despite Fernández's assurances, what happens with Argentina's economy between Nov. 20 and Dec. 10 remains a mystery without as much as a sitting minister. Massa said it would be the responsibility of the president-elect but Milei replied that "let them take charge of their responsibility until the end of the term, on December 10."
Hence, the exchange rate between the Argentine peso and the US dollar and its conversion to retail prices faced by consumers is expected to shake in a country on the brink of hyperinflation. The so-called "dollar-crypto" (which traded while the election was taking place) has already reached AR$ 1,300 and nobody knows how high the other non-virtual versions could go on Tuesday, the week's first working day.
Local analysts fear some products tied to foreign commerce will not be traded until Dec. 10 amid growing uncertainty.
Looking ahead and with Kirchnerism as the figurehead of defeat, Buenos Aires Governor Axel Kiciloff - perhaps with Córdoba Governor-elect Martín Llaryora and a few others - will be left almost alone to weather the Libertarian wave. Some Peronists believe it will be up to them to revamp the movement while others are more inclined to perceive Peronism (and Kirchnerism) as dead and new popular political forces will necessarily emerge.
In the meantime, the opposition Juntos por el Cambio coalition has already been broken after the Oct. 22 elections when Mauricio Macri and Patricia Bullrich sided with Milei and Horacio Rodríguez Larreta and María Eugenia Vidal supported Massa. Larreta claims he still belongs to JxC but after Dec. 10 he will be out of a job as Mayor of Buenos Aires.
In this scenario, how long will Milei's aura last? After all, he comes along with a cohort of former officials linked to the administration of former President Macri, who did not even reach a runoff against Fernández in his 2019 reelection bid. Milei said Sunday there was no room for gradualism, a policy for which Macri was held politically accountable.
It was already reported in Buenos Aires that Milei would be appointing Diana Mondino as Foreign Minister, Guillermo Francos at Interior, and Sandra Pettovello at Human Capital, a new body to take over labor, social welfare, and health, among other competencies, and Guillermo Ferraro at Infrastructure.
Although Milei has admitted he would like to see Bullrich again at the helm of Security, it is believed that such a vacancy would be up to Vice President Victoria Villarruel to fill, as will Defense.
In addition to Security, there are rumors that the Macrists Germán Garavano and Federico Sturzenegger could return to Justice and Economy, respectively. Milei, an economist himself, has been working together with Carlos Rodríguez, and Roque Fernández who have a past within the administration of former President Carlos Menem (1989-1999).