Javier Milei to become Argentina's next president
Monday, November 20th 2023 - 10:16 UTC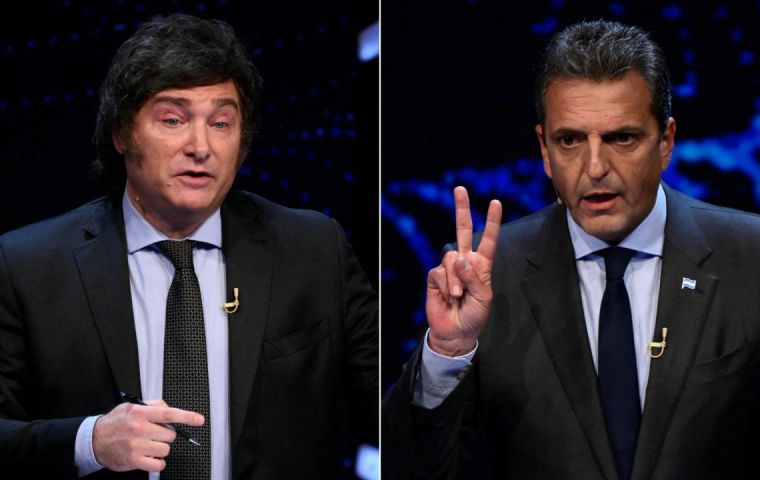 The ruling party's presidential candidate and current Minister of Economy of Argentina, Sergio Massa, acknowledged on Sunday the victory of his libertarian and far-right contender, Javier Milei, in the second round of elections in the country. The candidate of Libertad Avanza surpassed Massa in the ballotage by almost 11 points. The support received in the interior of the country, especially in Córdoba and Mendoza, was decisive, it was reported.
Almost 50 minutes before the time announced for the release of official data, Massa appeared on the stage of the bunker set up in the Chacarita neighborhood of Buenos Aires to acknowledge the defeat and congratulate the new head of State. "Argentines chose another path and from tomorrow the responsibility of giving guarantees on the political, social and economic functioning is of the elected president", he assured.
Defending the banners of social security, public education and Argentina's 40 years of democracy, Massa delivered a short speech from his campaign bunker that contrasted with that of Milei.
Argentines voted this Sunday in a run-off election for president between the Peronist Minister of Economy Massa and the libertarian Milei, in a close election that took place in a climate of extreme tension.
In the midst of a serious economic crisis, the electoral campaign developed between feelings of anger towards traditional politics represented by Massa and fear of Milei's disruptive proposals.
Later Sunday, it was known in Buenos Aires that Massa would be taking a leave of absence as Economy Minister while Milei warned that there would be no room for gradualism and that the country's reconstruction had already begun.
Read also: Milei: Reconstructing Argentina starts today