Massa acknowledges defeat, seeks leave as economy minister
Monday, November 20th 2023 - 08:16 UTC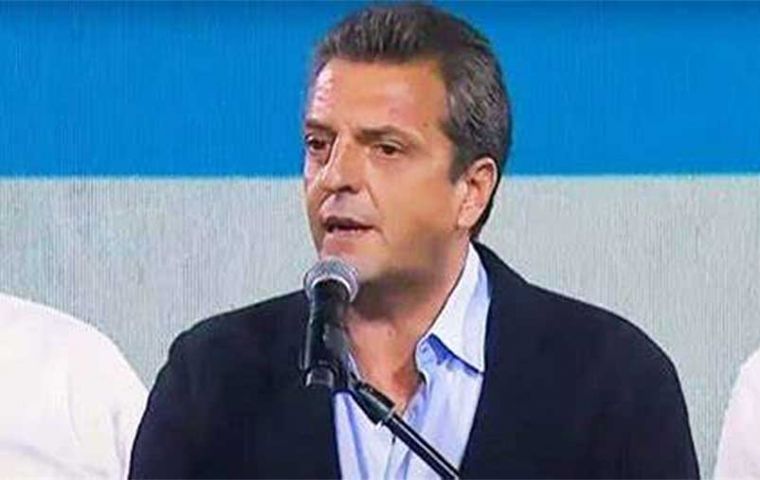 After acknowledging defeat and warning in a public speech that starting Monday "the responsibility of giving certainty on the economic performance" of Argentine would be up to President-elect Javier Milei, it became known in Buenos Aires that Sergio Massa would take a leave of absence as economy minister, allegedly to allow for a smoother transition.
According to local media, meeting with Milei's team on behalf of the departing Alberto Fernández administration until Dec. 9 will be Finance Secretary Raúl Rigo and Central Bank (BCRA) President Miguel Pesce.
The outgoing government leaves behind annual inflation of 142.7%, poverty above 40%, a Gross Domestic Product (GDP) 2.2% lower than in 2019, negative BCRA reserves, and a negative foreign trade balance.
In the last four years, the official exchange rate between the local currency and the US dollar soared from AR$ 60 to AR$ 369.50, while the "blue" version (a euphemism for "black market") closed on Friday at AR$ 950 with virtually no transactions due to a government crackdown on cuevas (caves, slang for illegal exchange parlors).
After congratulating Milei on his victory minutes after 8 pm Sunday and before the first official results were released, Massa explained that "the most important thing is the message that coexistence, dialogue, respect for peace, in the face of so much violence and disqualification, is the best way we can go."
"Argentines chose another path," he added. Therefore, "from tomorrow, the responsibility and task of giving certainties and guarantees on the political, social and economic functioning is of the new President-elect. We hope he will do so," he added.
"We have proposed to the President-elect and the President of the Nation to start tomorrow the liaison mechanisms so that the Argentines do not have any doubts or uncertainties regarding the normal economic, social, political, and institutional functioning," he also said.
Massa highlighted the importance of State policy agreements so "that the educational system, the labor system, the system of human rights guarantees, the system of international relations of Argentina with the world, must be agreements that Argentina will have to go through in the next ten years."
Sunday's "results are not what we expected," Massa also reckoned before thanking "all those who in this discussion of two proposals for a country, not only from unions and social organizations, the civil society, but also from that moving micro-militancy house by house, tried to tell every Argentine which is the project of a country we represent."
"I understand those who feel disillusionment and anger. I want to tell you personally that I tried to leave everything in this campaign. I did it with conviction because I love Argentina".
It was also reported in Buenos Aires that Massa's wife Malena Galmarini had turned in her resignation as head of AYSA (Agua y Saneamientos Argentinos), the state-run company providing drinking water and sewage services in the country's capital. The official announcement, however, is still pending.
Massa took over the Economy Ministry in August 2022 amid a strong crisis after the resignation of Martín Guzmán and the short-lived appointment of Silvina Batakis to succeed him. At the time, Massa was implicitly forced to narrow the gap between President Fernández and Vice President Cristina Fernández de Kirchner, who had not spoken to each other for some time.