Pulp mill conflict widens Mercosur rift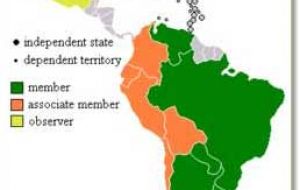 Escalating mutual recriminations and complaints between Argentina and Uruguay signaled the first day of deliberations at the Mercosur ministerial meeting in Brasilia in the same week that the group officially inaugurated its Parliament.
In spite of Brazil's efforts to soothe the situation, Mercosur' rift widened as Argentina and Uruguay clashed over the pulp mills dispute, trade and more broadly about the lagging benefits for the junior members of Mercosur, (Paraguay and Uruguay). But in spite of Uruguay's complaints the pulp mills issue and road blocking by Argentina environmentalists was not included in the agenda for the coming Mercosur presidential summit next January, which Uruguay had anticipated would not be participating to express its displeasure with the exclusion. Mercosur decisions are by consensus. Uruguayan Foreign Affairs minister Reinaldo Gargano complained bitterly Argentina was blatantly violating article one of the Mercosur Asunción founding Treaty which refers to the "free movement of peoples and goods" and criticized President Nestor Kirchner's "lack of action" to prevent environmentalists, who fear a pulp mill under construction on a river which acts as a natural border between both countries will contaminate, from blocking access to Uruguay. Argentina's Foreign Affairs minister Jorge Taiana replied that the Kirchner administration will continue with its policy of "deterrence" to end the routes' pickets and ratified opposition to Uruguay's intention of regionalizing the dispute. Brazil that will host the presidential summit tried unsuccessfully to smooth differences but ratified it would only mediate if both sides so request it. Brazil has consistently taken distance from the pulp mills' conflict and Foreign Affairs minister Celso Amorim earlier in the week visiting Buenos Aires once again assured the Kirchner administration of its policy. Argentina's position is that currently there's a dialogue "facilitating" process underway sponsored by the King of Spain and to which Uruguay assented. Uruguayan Economy minister regretted Brazil's "hands off" policy regarding the controversy and insisted "Brazil must show its leadership. I believe its mere size makes it a natural leader in the region". Uruguay is becoming increasingly anxious over the pickets blocking access to bridges since in the high holiday season tens of thousands of Argentines flock to Uruguayan beaches and there are growing fears that this could be a repeat of last year. Taiana speaking with the press in Brasilia said the "there are no bridge blockades, rather protestors interrupting traffic several kilometers before the bridge heads and in one of them it's only sporadic. The Argentine government has dissuaded the traffic interruptions but by persuasion". However it was not only pulp mills, contamination and pickets. Argentina complained that Uruguay has violated Mercosur regulations for having imposed customs duties on certain Argentine imports. "We're facing a clear violation of the Asunción Treaty with the imposition of ad valorem duties in intra-zone trade", said Taiana. Uruguay actually appealed to customs duties against imports from several Argentine underdeveloped provinces that enjoy tax exemptions and other investment benefits influencing the final cost. "These restrictions don't seem to correspond to the recurrent demands for more and more Mercosur which Uruguay's president likes to boast", said Taiana. Uruguay's Gargano further increased the bickering when he demanded more flexibility in Mercosur rules so that junior partners can sign "bilateral trade agreements with third countries". Both Uruguay and Paraguay are targeting closer trade relations with United States. Mercosur junior members argue that they don't receive the same benefits as Brazil and Argentina from the block and complained about the over one billion US dollars trade deficit with their larger partners. Brazil, acting as host, tried to smooth over the differences with an appeal for greater integration of the region. 'It's not enough that political leaders are integrationists; the man on the street has to be integrationist. Only when that happens will we have true integration,'' said Brazilian Foreign Minister Celso Amorim, who took pains to avoid addressing internal divisions. Also Friday, Mercosur made official a development fund, known as Focem, to promote infrastructure integration between countries in the region. According to the Brazilian central bank, the fund will receive contributions of 100 million US dollars annually, of which Brazil will contribute 70%, Argentina 27%, Uruguay 2% and Paraguay 1%. Brazilian Finance Minister Guido Mantega said Brazil has so far earmarked 35 million US dollars for deposit in the fund. Summing up Friday's discussions host Amorim insisted the "pulp mills conflict had not contaminated the meeting", even when Uruguayan and Argentine officials showed no intention of lowering the level of confrontation on meeting the press. Nevertheless the dispute faces a new round next Monday in The Hague before the International Court where Uruguay filed a complaint demanding action from the Argentine authorities against the road blocking by pickets. On the bright side Mercosur welcomed associate member Bolivia's request to become the sixth full member of the group. "We agreed not only to accept such a request but to name a small delegation that could begin talks with the Bolivian side so the issue can be solved as soon as possible", said Amorim. A week ago in Cochabamba during a South American leaders' summit Bolivian president Evo Morales called for Mercosur and the Andean Nations Community to come together and become "the founding stone for the integration of south America". The Common Market Council meeting is previous to the two annual Mercosur summits and is preferably technical with the participation of Foreign Affairs ministers; Economy ministers and Central Bank presidents.