Argentina begins 3D exploration in South Atlantic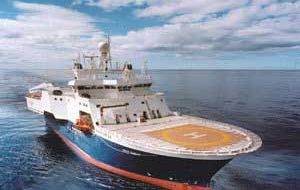 Argentina began this month ninety days oil and gas 3D seismic surveying of its continental platform in the Colorada Marina basin 200 miles off Mar del Plata.
The vessel involved is "Geco Triton" belonging to American Champion Inc and managed by Western Geco Seismic Sdn Bhd, which was contracted by Repsol-YPF in a combined operation with Argentina's new energy company, Enarsa, Petrobras and Petrouruguay. "The first phase of the job is three-dimensional seismic surveying. All the data collected is then analyzed by specific technical labs and if promising we move into the second phase of exploratory drilling", said Fabian Falco head of Repsol-YPF Public Relations. Two initial exploratory wells could have a cost in the range of 30 million US dollars and "if traces of oil or gas are found then we can think of production drilling but we're talking at least well into 2009/2010", added Falco. "Geco Triton" which earlier in the year was working off shore Colombia is currently towing ten cables 3.5 miles long in the South Atlantic, 400 miles south of Buenos Aires and 200 miles off Mar del Plata according to Falco who added that the contract and data analysis is an operation "in the range of 27 million US dollars". Enarsa created by President Nestor Kirchner's administration has priority over the Argentine maritime platform and companies interested in operating must associate. Therefore Enarsa holds controls over the Colorada Marina basin with Repsol YPF acting as operator. In the undertaking Enarsa and Repsol-YPF hold a 35% stake, Petrobrás 25% and Petrouruguay 5%. If the whole operation proves to be successful and oil or gas is found in commercial volume development of the frontier province, according to Repsol-YPF estimates, "will be in the range of two billion US dollars given the high risk involved in deep sea extraction".