Vazquez pessimistic over pulp mills dispute and Mercosur summit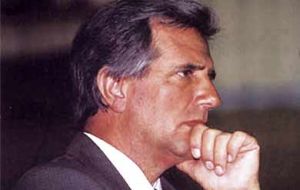 A few hours before the Mercosur summit in Brazil, Uruguayan president Tabare Vazquez discarded Wednesday a meeting with his Argentine counterpart Nestor Kirchner to discuss the pulp mills dispute and insisted on the lifting of bridge blockades before any negotiation can begin.
"We must wait for the results of the (dialogue) "facilitating efforts" from (Spanish) King Juan Carlos, in spite of which Uruguay will not sit to negotiate until the bridge blockades are lifted", said Vazquez interviewed by local radio stations on his birthday. "At some point or other we will be meeting (with Kirchner) since we'll be in the same room but no bilateral meeting or appointment has been scheduled", said Vazquez adding that Botnia-Orion will continue construction and "next year will be operational". Something similar can be said of Spain's Ence which has plans to build a pulp mill in Colonia "once they've complied with all the necessary documents". A third pulp mill from Sweden's Stora Enso is programmed to be built in Durazno, in the heart of Uruguay. "We feel very disappointed with the whole situation with Argentina, but to negotiate Uruguay demands an end to the pickets blocking bridges". Vazquez was also rather pessimistic about the Mercosur summit which begins Thursday in Rio do Janeiro emphasizing on the problems caused by asymmetries and advanced Uruguay would request authorization to begin trade negotiations with third countries. "Mercosur as it currently stands, for countries with smaller economies is not serving its purpose", which however does not mean "we're rejecting the need to have an integration process", said the Uruguayan president. However, even when no bilateral presidential meeting is scheduled, at ministerial level officials from Uruguay and Argentina will meet to address the issue of the pickets and bridge blockings. Uruguayan Foreign Affairs minister Reinaldo Gargano said he was looking forward to meeting with Argentine counterpart, Jorge Taiana, which "could be historic; it's an opportunity for Argentina to request the assembly of Gualeguaychu to put an end to bridge blockading". The encounter is scheduled for Thursday before the formal beginning of the summit. "The free movement of people and goods is one of the pillars of the Mercosur treaty, but only a percentage point of those which normally cross the bridge linking Gualeguaychu with Fray Bentos have been able to do so which gives an idea of how serious the situation is", underlined Gargano. Gualeguaychu residents and pickets have warned pickets will not be lifted until Botnia relocates the plant under construction.