Ruling could drastically cut traffic in Brazil's busiest airport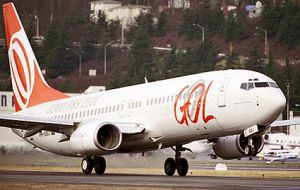 Brazilian authorities have warned that up to 10.000 passengers could be stranded daily if a court ruling which for security reasons bans large aircrafts from operating in one of Sao Paulo's several airports, becomes effective next Thursday.
The airlines most affected by the ruling banning Fokker 100, Boeing 737-700 and Boeing 737-800 aircrafts are OceanAir and Gol operating from Congonhas airport which is the country's busiest domestic air terminal. "At least 10.000 passengers per day will be stranded if the ruling from federal Judge Ronaldo de Carvallo Filho becomes effective", warned the interim president of Brazil's Civil Aviation Agency (ANAC) Denise Abreu who anticipated that the ruling will be appealed. The judicial decision follows a request from the Federal Attorney General office which demanded the immediate closure of Congonhas main air strip because of landing risks on rainy days. ANAC announced that repaving the air strip is planned to begin next February 26. The Brazilian air transport industry faces a serious challenge since last September 26 when the worst accident of the country's history occurred with 154 people killed. On that day a Boeing from the budget airline Gol scraped in mid air with a US Legacy jet that somehow managed to make an emergency landing. The case triggered a conflict with the Brazilian air comptrollers generating backlogs and inconveniences in all the country's airports last November and December. Furthermore in Christmas Brazil's leading airline TAM suffered a partial computer blackout causing delays of up to 42 hours in domestic flights. In the middle of the havoc some stranded passengers took to the air field preventing aircrafts from taking off. Brazilian president Lula da Silva promised a complete overhaul of the industry.