Lula da Silva in Madrid to attract "wave of Spanish investors"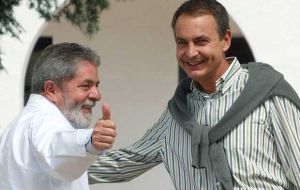 In search of more investments Brazilian president Luiz Inacio Lula da Silva arrived this weekend in Spain where beginning next Monday he has a heavy schedule of political and economic meetings.
On Monday Lula da Silva and his delegation of top officials from Brazilian government and private companies, will open a trade and investment forum with the cream of Spain's business and financial community. The forum is in the framework of the Growth Acceleration Program announced by President Lula da Silva when he was re-elected last year and is based on massive infrastructure investment to ensure 4 to 5% annual growth of the Brazilian economy. "The idea is to generate a second wave of Spanish investments in Brazil", said a top official from the delegation. Spain which until the early nineties virtually had no investments in Brazil has become the second foreign investor behind the United States, totaling an estimated 35 billion US dollars. But president Lula da Silva is also interested in political talks with president Jose Luis Rodriguez Zapatero and cooperation in several areas of Latinamerica to ensure political stability, with particular emphasis in Bolivia and Ecuador that have become "turbulent" areas for foreign investors particularly in the oil and gas industry. The Brazilian president arrived in Madrid from a six day visit to Scandinavian countries, the first ever by a Brazilian leader. Brazil and Spain are also scheduled to sign several bilateral agreements on energy cooperation, mainly bio-fuels and promotion of scientific activities.