China interested in South Atlantic oil and gas exploration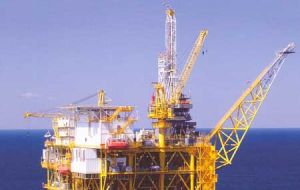 China is interested in exploring for hydrocarbons on continental Argentina and in the South Atlantic, revealed Beijing's new ambassador in Buenos Aires Zeng Gang. He also said that talks for a possible joint undertaking offshore with Argentina's oil corporation Enarsa are also advancing.
Zeng Gang former head of the Latinamerica desk in the Chinese Foreign Affairs ministry and fluent in Spanish gave a conference on relations between China and the region, particularly Argentina, at the Argentine think-tank Strategic Planning for Economic and Social Development Institute. At the end of his speech the ambassador said that before leaving for Buenos Aires he had a chat in Beijing with the head of China's National Oil Corporation who "told me that Argentina still has to explore 50% of the potential oil and gas reserves of the South American continent". Adding that "the best opportunities are offshore, out in the South Atlantic and that's where we want to cooperate with Argentina", said Zeng Gang. China which will soon become the world's third largest economy is the globe's second main consumer of oil and its reserves, as happens with Argentina, are declining. China's Oil Corporation with assets totaling 200 billion US dollars is also the world's second most important oil company and its associate China National Offshore Oil Corp with 50 billion in assets has specialized in oil and gas exploration and drilling in the high seas. China's Oil Corporation is already present in Latinamerica and has exploration agreements with Venezuela and Costa Rica. Argentina's energy corporation Enarsa, has offshore operations in association with France's Total in Tierra del Fuego, plus similar agreements with Petrobras and Repsol-YPF. In 2009 Repsol and Enarsa are scheduled to begin exploration in the Malvinas basin. Argentina has since 2004 had a strategic association agreement with China which should facilitate associate operations between China's Oil Corporation and Enarsa. However Argentine industry sources pointed out that given the current royalty and taxes scheme imposed by the President Kirchner administration on the oil industry, "offshore operations in Argentina are not profitable or attractive". Enarsa nevertheless admits that there have been conversations with Chinese officials on oil and gas issues but so far "with no firm commitment". Ambassador Zeng Gang also called for a more active commercial relation with Argentina. "Argentina currently only represents 10% of China's trade with Latinamerica, with smaller countries such as Peru and Ecuador, having a larger share. This is disappointing since we've had a good bilateral relation for over three decades". In related news Argentina and Uruguay signed an agreement for the establishment of a liquid gas re-gasification plant, close to the port of Montevideo with an initial investment of 1.5 billion US dollars. The plant should be operational in five years time. The plant will be supplied with imported gas that would then be equally distributed among both countries. Uruguayan Minister of Industry and Energy Jorge Lepra said once the plant is producing it will supply the whole of Uruguay, and metropolitan Buenos Aires with an initial daily output of 10 million cubic meters per day that will increase to 25 million. Lepra added that several international oil corporations such as Repsol-YPF, Petrobras and Pan American Energy have expressed an interest in the project.