Frosts cut Argentine wheat production by 1.2 million tons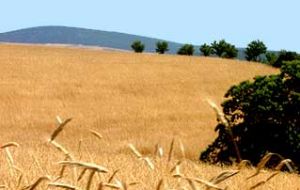 According to the first reports late frosts in early November could have cut Argentina's expected wheat production by an estimate of 1.5 to 2 million tons according to wheat farmers organizations.
"Out of season frosts between November 4 and 15 have caused production losses equivalent to 2 million tons of the harvest", said Santiago Cameron, president of the Argentine Association of Wheat farmers, Aaprotrigo. The Buenos Aires Cereals Exchange released a preliminary report stating that the loss can be estimated in 1.2 million tons. But anyhow in spite of record low temperatures for this time of the year Argentina's wheat harvest will reach 15.2 million tons compared to the original 16.4 million tons. "The major loss to potential yield originated in the succession of frosts in coincidence with the most highly sensitive flowering period of wheat. The sequence of below zero temperatures had two particularly intense and damaging events on November 4 and 15". The full impact of the frosts was most felt to the southwest of the province of Buenos Aires, Argentina's wheat belt, and also extended to part of the corn and soybeans heartland closer to Cordoba provinces. "Damage has been intense and 20 to 30% of the southeast Buenos Aires wheat crop is lost", said German Heinzenknecht, a meteorologist expert. Argentina is one of the world's five leading exporters of wheat and the Agriculture Secretary this week closed the export registry to assess the extent of losses and protect domestic demand and consumption prices. However the Secretary of Agriculture believes the final harvest will yield 15.4 million tons. The province of Buenos Aires supplies 60% of the country's wheat crop.