Argentine expatriates remittances soared eight times in 5 years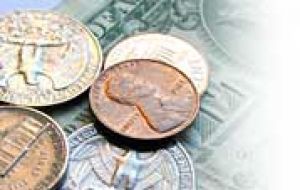 Remittances from Argentine expatriates soared eight times between 2001 and 2006 according to the latest report from the United Nations Economic Commission for Latinamerica and the Caribbean, CEPAL.
In 2001, previous to the melting of the Argentine economy and default, remittances were estimated in 100 million US dollars but in 2006 the figure ballooned to 850 million US dollars, giving an idea of one of the consequences of the instability of South America's second largest economy and the growing importance of emigration Furthermore in the period considered Argentina's remittances grew six times faster than the average for the rest of Latinamerican countries, points out the Cepal paper on "International migrations, remittances and economic development, the Latinamerica experience". But Argentina has the lowest per capita remittance of the region, just 6 US dollars compared to Venezuela's 10 US dollars or Brazil's 30 US dollars. The highly dependent countries are Panama and El Salvador with remittances of 361 US dollars per capita and Dominican Republic, 257 US dollars. The report shows that between 2001 and 2006 remittances from emigrants belonging to 24 Latinamerican countries jumped from 24 billion to 60 billion US dollars. The main recipient countries are Mexico, 23 billion; Brazil, 7.3 billion and Colombia 4.2 billion US dollars. However according to Cepal, Argentina is still a country of immigrants with the number of people moving into the country, 1.5 million (equivalent to 4.2% of total population) greater than that of those who left, 507.000, equivalent to 1.4% of total population. Following decades during which Argentina absorbed millions of immigrants from Europe and neighboring countries, the tendency in the last two decades has reverted and Argentines are returning massively mainly to Spain and in second place to Italy. This can be attributed to "the unstable performance of the Argentine economy, political turbulence and the authoritarian periods undergone by the country", argues Cepal. The report also shows that until the beginning of the seventies income per capita in Spain was below that of Argentina (something similar happened with Italy until the mid sixties). However Spain (and Italy) experienced very strong growth and 35 years later in 2004, Argentina's income per capita was half that of Spain. "Argentina is also the country which has suffered the greatest loss of relative income compared to United States, Canada and Spain, a situation which is consistent with the high rates of Argentines leaving for other countries", says the report.