Four cruises and 8.000 visitors on one day in Punta del Este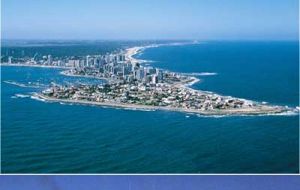 Uruguay's main sea side resort renowned Punta del Este received this week four cruise vessels simultaneously and although not all of the 8.000 passengers landed a significant percentage did make it ashore, establishing a record visit.
"Splendour of the Seas", "Costa Mediterranea", "Symphony" and "Costa Romántica" coincided at the ample bay of Maldonado, well protected by the small Gorriti Island, once a Spanish colonial fortified outpost that protected the local port from "English pirates". From early morning and into late evening an intense traffic of launches crisscrossed the bay from the cruises to the local jetty. Some of the cruises had left from Brazil on their way to Buenos Aires and further south while others were sailing northwards after having called in several Argentine and Chilean ports. This 2008/09 season Punta del Este is forecasted to receive 104 cruise calls with some 200.000 passengers, and although a significant percentage land, many others remain on board enjoying all the leisure and full board facilities. The four cruises was a record over the previous three simultaneous visits. It was an interesting event which the local government was quick to record from the sea and air, since Uruguay's capital and main port Montevideo, and only handle three of the jumbo cruises at the same time.