"Ponzi" Madoff inquiry targets SEC and regulators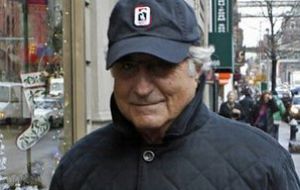 The US Congress has launched an inquiry into a suspected 50 billion US dollars fraud allegedly run by the US hedge fund manager, Bernard Madoff. The House Financial Services Committee is to question regulators and investors to try to determine why the authorities failed to uncover the scandal.
The Madoff case has intensified calls by those who want a wide-scale reform of the US financial regulatory system. A court in New York is hearing an application for bail by Mr Madoff. Prosecutors asked the judge to revoke Mr Madoff's bail terms on Monday, claiming he was a flight risk, but he withheld his decision. The former chairman of the Nasdaq Stock Exchange has in effect been under house arrest since December. He has been fitted with an electronic tag and has to seek permission to leave his flat. He is accused of running a 50 billion USD Ponzi scheme that wiped out investors around the world. At the first hearing of the Financial Services Committee on the alleged fraud on Monday, both Republican and Democratic House members said it reflected deep, systemic problems at the US Securities and Exchange Commission. "Clearly our regulatory system has failed miserably and we must rebuild it now," said Representative Paul Kanjorski, a Democrat who chaired the hearing. The scandal "fell through the cracks of our regulatory system," he added. "It now appears that regulators should have detected the Madoff wrongdoing earlier because of the red flags raised by others." Representative Spencer Bachus, the senior Republican on the panel, called for Congress to create a regulatory structure "for the 21st Century" but cautioned against rushing to do so. The SEC's Inspector-General, H David Kotz, told the committee he was so concerned about the agency's failure to uncover the alleged fraud that he was expanding the inquiry beyond what was called for last month by its chairman, Christopher Cox. Mr Kotz said he would examine the SEC's enforcement and inspection divisions - including any "social and professional relationships" with the Madoff family that might have influenced investigators - and make recommendations.