Argentine industry calls for "non tariff barriers" against world crisis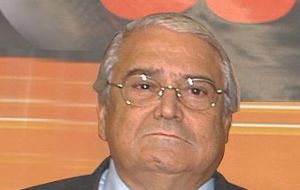 Argentina should appeal to "non tariff barriers" to protect itself from the global crisis said Hector Mendez, who this week takes over as head of the country's largest federation of industries, Industrial Union of Argentina, after having elected to the post.
"If you are facing a disproportionate and unfair advance of imports you must impose restrictions" said Mr. Mendez in a Sunday interview adding, "let us appeal to non tariff barriers and then later adopt a collective position regarding free trade. We must conserve a reasonable quota of the market".
Mr. Mendez confirms the protectionist stance of Argentina's main industries organization UIA, which is currently negotiating agreements with similar organizations from Brazil, Uruguay and Paraguay, following the Argentine government imposition of "licences" which can delay Mercosur imports up to 90 days.
"Brazilian businessmen and authorities are more practical and intelligent than us in imposing barriers to trade. On the one hand they openly condemn protectionism and on the other they apply subtle barriers, such as not letting our trucks leave Customs offices in the border crossings", said Mendez.
However Mr. Mendez said he was contrary to a further depreciation of the Argentine currency as some of his peers are demanding to keep in line with the strong devaluation of the Brazilian Real, (Argentina's main trade partner), since the crisis begun last October.
"It's a complicated issue, you just can't tell the government to devalue dramatically so we keep track of the Real" he underlines, "You have to take into account other consequences in the domestic market, and there are other resources and tools which can be used".
Since the end of 2008 Argentina has enforced customs barriers which have triggered conflicts with Mercosur partners, although the main target seems to be limiting manufactured and textile imports from China and other Asian countries.
Argentina and Brazil have begun talks at government level to eliminate the US dollar as the value currency in bilateral trade and have encouraged their business organizations to agree on trade mechanisms and ways to solve disputes, which has led to a round of negotiations between UIA and Sao Paulo's Federation of Industries, FIESP, the most influential organization in Brazil.
Last week UIA released a report indicating that February activity in the different manufacturing sectors had dropped 12.2% compared to a year ago, contrary to official government statistics which talked of 1.1%.
The report also points out that February was "the fourth consecutive contraction since last November 2008, following 72 months of sustained growth". It also indicated that manufacturing in 2008 expanded 3.4% "far below previous rates" and again contrary to the official 4.9%.