Brazil central bankers see margin to further cut interest rates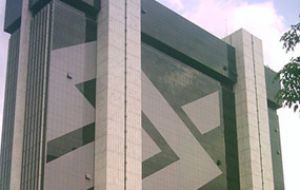 Brazilian central bank policy makers said the global economic slump may favour the ongoing reduction of interest rates without jeopardizing the inflation target, according to the minutes of the April 28-29 monetary policy meeting posted on the bank's Web site.
The bank last month cut the benchmark interest rate to a record low of 10.25%, from 11.25% in a bid to prevent the Brazilian economy from contracting this year.
With record job losses and plunging output policy makers said their inflation expectations for 2009 and 2010 had fallen since their March meeting, when they cut the overnight rate by 1.5 percentage points, as the global crisis reduced domestic demand.
"In this context, monetary policy can be eased without placing at risk the convergence of inflation to its target," the bank said according to minutes. "Despite there being a margin for easing, monetary policy should remain cautious, looking to make sure that inflation converges to its target."
According to recent central bank market surveys, the rate is expected to end 2009 at 9.25% and to rise slightly to 9.5% by the end of 2010. Local markets, meanwhile, reacted positively to the latest central bank minutes.
The central bank has cut interest rates at all three meetings of 2009, with last week's cut of one percentage point following reductions of 1.5 points in March and one point in January.
Brazil's economy will shrink by 0.3% this year, according to the latest central bank survey of economists published May 4. The previous week's survey had forecast a 0.39% decline.
The administration of President Lula da Silva has cut taxes on car sales, construction materials and home appliances, lowered borrowing costs, injected about 90 billion USD in currency and money markets and pledged to carry out planned public works even as government revenue erodes.
Meantime the financial daily Valor Economico citing government officials not identified by name said that Brazil's Finance Ministry is expected to announce a cut to its growth forecast for 2009 to 1.2% from 2%.
Brazil's GDP is likely to have contracted in the first quarter from the previous three-month period, after decreasing 3.6% in the fourth quarter from the third, according to Valor.