Lula da Silva promotes use of local currencies for trade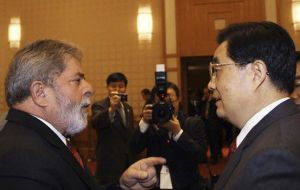 China and Brazil should conduct business with each other in their own currencies instead of the dollar, a publication quoted Brazil's president Lula da Silva as saying ahead of his trip to Beijing next week.
In an interview published Friday in Caijing, a respected Chinese business magazine, Lula da Silva said it was important that the two countries "establish a trade that is paid for in our own currencies".
"We don't need dollars" Lula da Silva was quoted as saying in the transcript posted on Caijing's Web site. "It's crazy that the dollar is the reference and that you give a single country the power to print that currency".
The Brazilian president has been urging the end of the use of the US dollar in South American trade, saying it will reduce transaction costs for both exporters and importers, especially those operating on a smaller scale. Brazil and Argentina have already agreed to trade with each other using their own currencies and negotiations for a similar accord with Uruguay are advancing.
In recent years, China and Brazil have been forging stronger ties. In February, Lula da Silva met with Chinese Vice President Xi Jinping during Xi's visit to Brasilia. Talks yielded an agreement in which Brazil would supply up to 100 million barrels of crude oil a day to China in exchange for a loan of up to 10 billion US dollars.
China's Foreign Ministry said Lula da Silva will meet President Hu Jintao during his May 18-20 trip, which coincides with the 35th anniversary of relations between the two countries.
"They will have an extensive and in-depth exchange of views on deepening bilateral strategic partnership, expanding pragmatic cooperation in various fields as well as regional and international issues of common interest," ministry spokesman Ma Zhaoxu said this week.
In the Caijing interview, Lula da Silva said talks with the Chinese would focus on renewable fuels, the prevention of global protectionism and the ongoing economic crisis. He added he hoped to sign agreements in banking, ports, infrastructure projects and the fight against transnational crime.