Consumer prices in Uruguay down to 0.41% in May and 6.63% in twelve months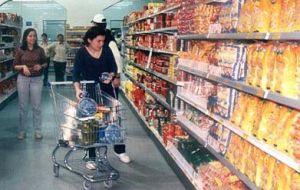 Consumer prices in Uruguay during May increased 0.41%, and 6.63% in the last twelve months according to the latest release from the government's Statistics Office.
In the first five months of the year, consumer inflation reached 1.66%, all of which compares favourably with a year ago: May 08, 0.87%; Jan-May 08, 4.1% and 7.20%.
The item which most influenced last month's index was housing having surged 1.49%. This was boosted by increases in cooking gas (5.75%); public utility rates (3.51%), rents (1.26%) and other charges (1.45%).
The second item was Transport and Communications, basically up 1.14%, pushed by fuel price increases, 5.75% and taxi services, 171%.
The third area of influence was Food and Beverage which had a minimum variation of 0.02%, with vegetables, potatoes and legumes down 3.44% and fresh fruit, also down 0.37%.
Education and Health services remained virtually unchanged, 0.03% and 0.11% which is a considerable slowdown compared to the same month last year, 1.17% and 0.41%.