UK says Falklands should be out of UN non self-governing territories list
Wednesday, June 24th 2009 - 08:43 UTC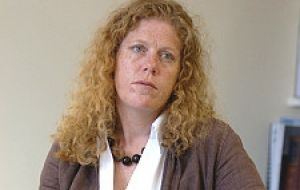 The United Kingdom spokesman Chris Bryant said that the British position is that Gibraltar, the Falklands or any other Overseas Territories should not be included on the United Nations list of non self-governing territories.
The statement follows last week's UN Special Decolonization Committee, or C24, annual meeting in New York which in a consensus declaration supported the positions of Spain and Argentina ignoring self determination rights for the peoples of Gibraltar and Falklands.
"The 2006 Gibraltar Constitution provides for a modern and mature relationship between Gibraltar and the UK, and Her Majesty's Government regrets that the UN Committee of 24's outdated criteria fail to take this into account. The Government do not consider that any of their Overseas Territories should remain on the UN list," said Mr Bryant in response to a question from Adam Price MP of the Welsh Party Plaid Cymru.
The elected government of Gibraltar was not officially present at this year's UN meeting arguing "it was pointless to keep returning because the C24 had never acted on Gibraltar's behalf but had, instead, always chosen and continued to be silent".
Chief Minister Peter Caruana said Gibraltar had moved on but the C24 had chosen to remain behind. "Gibraltar now had exactly the relationship she wanted with the UK. It was not colonial in nature: she was no longer a colony. The committee had therefore made itself irrelevant".
However Falklands representatives did make presentations before C24 and it was elected member of the Legislative Assembly, Janet Robertson who pointed out that C24 resolutions on the questions of Gibraltar and the Falkland Islands are alone in referring, "not to the inalienable right to self-determination of the inhabitants, but merely to the interests of the population, as if these can be better determined by people and Governments other than the Islanders themselves".
She added it has never been clearly established why C 24 considers that of all remaining denominated colonial peoples in the world, only Gibraltarians and Falkland Islanders are denied a right to self-determination.
"This is not reasonable, it is not in accordance with democratic principles, and as from October 2008, it is not in accordance with the General Assembly: at the meeting of 4th Committee last year the Assembly voted to adopt an amendment to remove a recent insertion into Draft Resolution VI which qualified the principle of self-determination with the words "and where there is no dispute over sovereignty".
"It is becoming ever more anomalous that this Committee should be making reference to a 200 year-old sovereignty dispute at the expense of the rights of inhabitants of a Non-Self-Governing Territory", said the Falklands delegate.