Divers have recovered part of the gold lost in the South Atlantic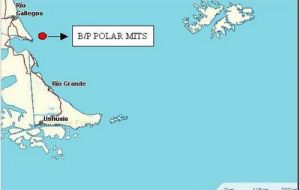 Part of the gold and silver which went down in the South Atlantic, off Patagonia, with the Chilean flagged trawler converted into a transport vessel "Polar Mist", has been winched aboard the rescuers' tug contracted to recover the precious cargo.
According to a Tuesday report from the Patagonian Santa Cruz province news agency OPI, divers from the rescue tug "C-Sailor" have been able to bring onboard a basket with gold and silver ingots from the hold of "Polar Mist" which still holds most of the 9.6 tons cargo with an estimated value of 20 million US dollars.
"Once the metal was onboard the "C-Sailor", the ingots were verified, strapped and sealed before observers from the Argentine Coast Guard and representatives from the insurance company", according to the OPI report.
It is estimated divers will need from ten to twenty days to recover the full treasure, much depending on the weather conditions in the Southern Atlantic winter.
The "Polar Mist" was located in 80 metres deep water some 40 kilometres offshore Cape Virgenes in Santa Cruz, just to the north of the east entrance of the Magellan Strait.
The trawler-transport was lost last January in the middle of a storm when carrying the 9.6 tons of precious metals belonging to the mining companies Cerro Vanguardia and Minera Tritton. Her destination was Punta Arenas, and from there by air to Santiago de Chile and later to Switzerland.
"C-Sailor" was contracted by insurers Lloyds and the Dutch rescue company Maommet. Besides the normal crew the special rescue operations tug had personnel from the Argentine Coast Guard and from the insurers to keep check of the task.
The sinking of the "Polar Mist" and her valuable cargo was surrounded by mystery from the moment she was struck by a storm last January 17. The crew was rescued by the Argentine Coast Guard and the vessel went adrift apparently left to sink.
However the following day a Chilean tug was sighted pulling the "Polar Mist" and heading for Chile. When ordered by the Coast Guard to return to Santa Cruz, that same night the "Polar Mist" was definitively lost, supposedly because of another storm.
A court inquiry was opened in Rio Gallegos and all members of the two vessels were questioned and later released.