HMS Gloucester delivers Task Force South exhibit to Falklands' museum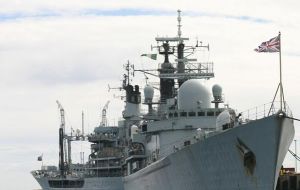 An exhibition of Falklands War naval artefacts was presented Wednesday to the Falklands Museum after being brought to the Islands by HMS Gloucester that has taken up tasks as the lead unit of the Royal Navy's Atlantic Patrol (South).

Following a request from the Royal Naval Museum in Portsmouth, HMS Gloucester embarked elements of an exhibition entitled Task Force South. The exhibit consists of mounted photographs and a name board belonging to HMS Antrim. HMS Antrim was seriously damaged in Falkland Sound, outside San Carlos Water, on the 21st May 1982 by an unexploded bomb dropped by Argentinean Aircraft.

These items had previously been on display in Portsmouth as part of the 25th Anniversary of the Falklands War and were handed over to Commander Iain Lower MA Royal Navy, the Commanding Officer of HMS Gloucester, by Richard Noyce, Curator of Artifacts, Royal Naval Museum, Portsmouth, shortly before HMS Gloucester departed for the Falklands.

Commander Iain Lower MA Royal Navy officially handed the items to Mrs. Leona Roberts, the Falkland Island Museum Manager, during a brief ceremony.

"I understand that the Falklands Museum is unfortunately short of RN material and this will go some way to address the balance. It will also allow the people of the Falkland Islands to see first hand the naval history of the war" said Commander Lower.