Mercosur warns it rejects any attempt to call new elections in Honduras
Saturday, July 25th 2009 - 11:50 UTC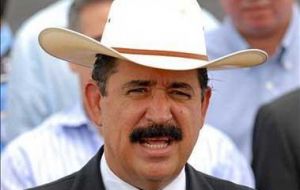 As was anticipated Mercosur released a strong condemnation of the Honduran de facto government and demanded the immediate reinstatement of constitutional president Manuel Zelaya.
The leaders of Mercosur, full members and associates, meeting Friday in Paraguay for the biannual summit warned they will not accept as valid any elections which the coup government of interim president Roberto Micheletti could call in the near future.
"The presidents reaffirm that they will not recognize any government born out of this constitutional rupture, that they will not accept as valid unilateral actions emanated from illegitimate Honduran authorities, including the call for elections", said the document signed by all leaders.
"The constitutional and legitimate government of Honduras is that headed by President Manuel Zelaya, whose physical integrity and that of all its government members is essential to preserve".
"We express our most energetic condemnation of the coup and the arbitrary arrest and exclusion from the country of President Zelaya" underlined the release.
Earlier during the meeting Argentine president Cristina Fernandez de Kirchner said that "we can't accept the fiction of tolerating a government with ousts a legitimate government, later is committed to calling elections and recognizes this process as valid, and ends legitimizing the coup".
"We must condemn any benevolent coup attempt, that is, when through a civilian-military coup legitimate authorities are ousted followed by attempts to legalize the situation by calling new elections. This would be the death kiss for the OAS democratic charter and turning the Mercosur democratic charter in mere fiction", argued Mrs. Kirchner.