Traffic in Panama Canal slowing down, reports administration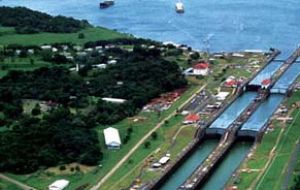 The number of vessels passing through the Panama Canal declined by 6.4% during the third quarter of Fiscal Year 2009, according to the waterway's administration latest report.
From April 1 through June 30, 3,576 vessels traversed the Canal, 245 fewer than during the same period in 2008, the Panama Canal Authority said in a communiqué.
The tonnage transiting the Canal also fell by 4.6%, declining from 77.2 million tons to 73.7 million tons.
With regard to the types of vessels traversing the Canal, bulk dry cargo ships and oil tankers registered increases, while the number of vehicle carriers and general cargo ships, container vessels and refrigerator ships declined.
Other figures released by Canal authorities show that between April and June, the average time for a vessel to transit the Canal, including the waiting in queue before entering the waterway, diminished by 47.9% from 38.3 hours to just under 20 hours per cruise.
PCA executive vice president for operations, Manuel Benitez, said that the increasingly efficient operation of the waterway and a slight decline in the number of vessel transits could be the causes of the shorter time required to get through the Canal.
He said that the operating figures registered declines and that trend is projected to continue in the near term.