Chile requests additional time to clear mines along Bolivian border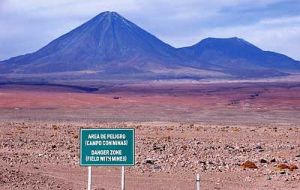 The Chilean government has requested neighbouring Bolivia to extend for a further two years (2012 to 2014) the timetable to clear of anti personnel mines planted in the seventies along border areas, reports La Razon, La Paz main daily.
Bolivian minister of Defence Walker San Miguel interviewed by La Razon confirmed that Chile has requested "a moratorium of two additional years" to finish the mines clearance job, given the "extraordinary number of explosives planted" along the border.
The minister said that the original timetable for the destruction of all antipersonnel mines, established by the Ottawa convention is 2012. However the general did not reveal whether the Bolivian government of President Evo Morales had accepted the Chilean request.
In June last year then Chilean Defence minister Jose Goñi informed Bolivian authorities that Chile in the decade of the seventies had planted 31.776 anti personnel and anti tank mines, and estimated that by the end of 2009, "40% of them would have been destroyed".
Bolivia (allied with Peru) went to war with Chile in the 1870s, but after some initial setbacks the Chileans marched all the way to Lima, Peru which they occupied for several years and at the same time captured Bolivia's sea outlet.
In the late 1970s when the anniversary of the Pacific war, Chile fearing surprise attacks from the north (Peru and Bolivia) and in the south (Argentina) planted hundreds of thousands of mines.
Diplomatic relations between Bolivia and Chile have been frozen since 1962, with the exception of a short period from 1975 and 1979 when both countries were ruled by military dictatorships.
However with the return of democracy and institutional consolidation of both countries, there have been significant bilateral advances in several fields and even the consideration of a sea outlet for landlocked Bolivia has been included in an agenda of 13 points which was agreed between the governments of Evo Morales and Chile's Michelle Bachelet in July 2006.