In open letter to Clinton maquilas call for democracy restoration in Honduras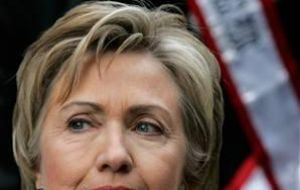 Clothing companies Nike Inc., Gap Inc., Adidas and Knights Apparel have released a joint letter to US Secretary of State Hillary Clinton calling for the restoration of democracy in Honduras. The three companies with maquilas in Honduras wrote an open letter to Clinton, expressing their concerns about recent events in Central America.
They said that while they "do not and will not support or endorse the position of any party in this internal dispute," they feel that it is necessary to join with President Barack Obama, the governments of countries in Americas, the Organization of American States, the UN General Assembly and the European Union in calling for the reinstatement of democracy in the country.
Resolution of those disagreements should come through "peaceful, democratic dialogue," the letter asserted plainly, "rather than through military action".
The letter, posted in Nike's website, added: "We urge for an immediate resolution to the crisis and that civil liberties, including freedom of the press, freedom of speech, freedom of movement, freedom of assembly, and freedom of association be fully respected."
But while their concern is appreciated, Toronto, Canada-based labour rights NGO, the Maquila Solidarity Network (MSN) has questioned why the other major international brands and companies with presence in Honduras have remained silent.
Executive director Lynda Yanz said, "Until now, business and business associations - including those in the textile apparel industries, which account for the majority of Honduras' exports - have publicly supported the coup, lobbied against trade sanctions, or remained silent and carried on business as usual under the military-imposed regime."
"This letter from major sportswear and apparel brands breaks that silence and calls for unequivocally for the restoration of democracy in Honduras."
"Thankfully, the brands that signed this statement are taking seriously their responsibility to Honduran workers and their rights and civil liberties". However "the question that remains is: Where are the other companies that are doing business in Honduras, including the three largest foreign investors in the country's apparel sector - Fruit of the Loom/Russell Corporation, Hanesbrands and Gildan?"
MSN is a labour and women's rights organization that has strong ties to other NGOs in Honduras.
Maquilas are one of the main sources of employment and foreign revenue (in the range to 3 billion US dollars annually) for the impoverished Central American country.